Fashion Design & Brand Development part-time
Do you have lots of good ideas but don't know what to do with them? Would you like to see your own designs put down on paper? Would you like to work with fabrics? How about creating your own portfolio? If these things appeal to you, then this is the course for you. By following the part time course Fashion Design & Brand Development you will develop and express your individual creative voice and design aesthetic.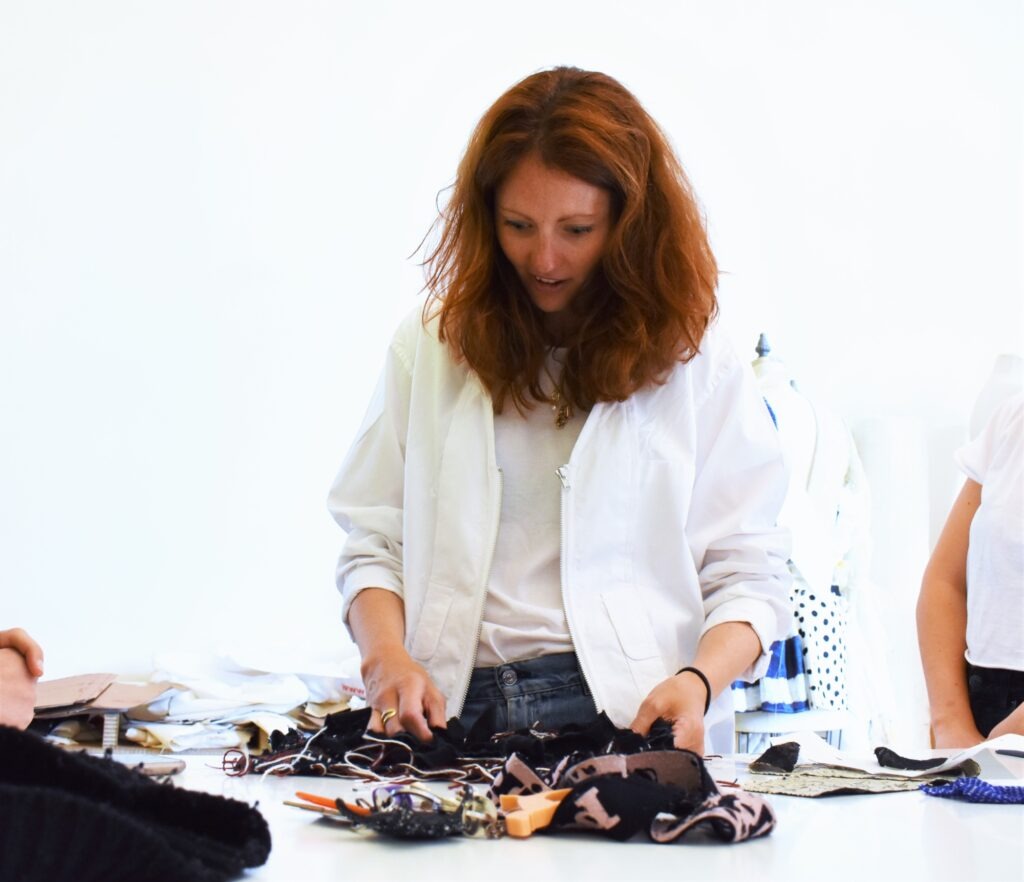 Course overview
Throughout this part time course you will develop and expand your creative awareness on how to use the design cycle to create design solutions in response to consumer requirements. 
You will be guided through initial research and fashion analysis sessions using techniques including collage, 3D experimentation and work on colour and styling. You will explore drawing styles and fashion illustration  –  a key skill for those wanting to join the industry – and learn how to express your designs figuratively.

Course outline
The course content challenges traditional and contemporary uses of fashion, as well as creating the opportunity, through workshops, to promote new approaches and processes in fashion. Participants can choose to acquire knowledge and expertise in a particular area of fashion which fits their own individual project intentions. During the course the course team will guide in your creative and aesthetic development in regular group and individual tutorials. 
Course subjects:
•           Trend analysis
•           Design Development
•           Range Planning
•           Customer Profiling
•           Market Analysis
•           Research skills
•           Location of evidence from primary and secondary sources
•           Development of creative ideas through experimental practical work

Assessment
The summative assessment will take place at the end of the module when students will present work to include:
•           Sketchbook of research and development
•           Design development
•           Customer profile
•           Final designs
•           Reflective commentary

Who should attend?
This type of study is designed for students who already have another BA but want to focus more on the fashion industry, or people who only want to brush up on some subjects. If you want to apply we will invite you for an interview.

The lecturers
The international team of (guest) lecturers are all experts in their respective field. They are from a diverse range of backgrounds in the fashion industry. Lively and entertaining speakers with a passion and infectious enthusiasm for fashion. All our lecturers endeavour to take a relaxed approach to the content, mixing lectures and on-site talks with more informal conversations.

Duration course
October 2nd, 2020 till May 14th, 2021
One day a week at the academy (6 hours per week) for 30 weeks
Every Friday 9.30 a.m. till 5.00 p.m.
Class-hours: 180 hours
Non-class hours: 90 hours 

Additional information
Level: Beginners – Higher education – Undergraduate
Enrolment fee: € 125,-
The enrolment fee is due within a week after the registration.
Tuition fee: € 4.100,-
Early bird fee of € 3.900 available until the 30th of June 2020.
The tuition fee is due no later than one month before the course starts.
Course taught in English
Certified: The Amsterdam Fashion Academy offers approved programs. Participants who pass the course will receive an Academy certificate of completion.
Don't hesitate if you would like to receive more information.
Call us on +31 (0)20-4896692 or e-mail and speak to us about your education and training needs. We're here to answer any questions you might have. If you want to register, please fill out the form and send it back to us by email