Calendar

Amsterdam Fashion Academy is more than a top-flight fashion school. It has consciously chosen to be a hub of small-scale, personal, student-centred learning in a supportive environment. Not just for our full-time students but also for anyone interested in fashion who wants to broaden and deepen their knowledge. Whether you choose to attend a part-time course, short course or if you just want to attend a free MEETUP. You're more than welcome.

In the calendar below you can find all the activities planned to take place at in the second semester of this academic year from February 2017 to June 2017. Please check this calendar regularly since it is updated on a weekly basis.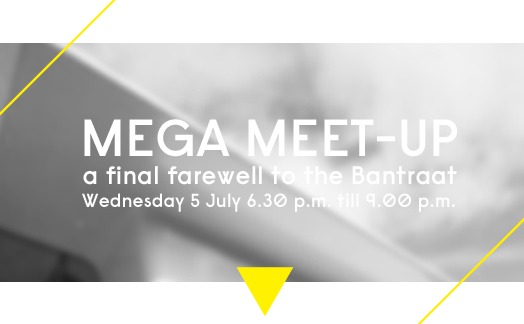 We have something to celebrate and we want to do that with you!
Wednesday the 5th of July 2017 from 6.30 pm till 9 pm.
Our fashion community already has more than 1,500 members, a fantastic and friendly group of fashion aficionados. We have met many of you but sadly have not yet been able to meet or welcome all of you at our academy. As mentioned, we have something special to celebrate, we are moving to new premises on August 1 st, an elegant townhouse in the city center.
But before we say our last farewell to the Banstraat we want to organize one more mega- MEETUP. And we hope to welcome all of you.
Looking for inspiration, styling advice or clever dressing tips? Or do you want to take your creative skills to the next level?
Then do come along on Wednesday the 5th of July from 6.30 pm till 9.00 pm. It promises to be an exciting evening with workshops Illustration techniques and 'make your own fashion accessories', professional styling advice, snacks and drinks. The perfect occasion to visit our academy, get to know us better and get to meet others. Everyone is welcome and entrance is free! See you then!

SATURDAY JUNE 3, 2017
meet up – diy upcyling workshop from 2 pm – 4.30 pm
During our DIY upcycling workshop we will teach you how to reshape and customize that old garment into something new and fresh!
Do you have a piece of old clothing that is out of fashion? Do you want to rejuvenate that piece of clothing in the back of the wardrobe? Well why don't you bring it along to our meet up and explore the possibilities of upcycling your old clothing.
This Saturday afternoon it is all about fixing, creating, colours, pretty things, innovation, sowing, cutting, pimping, glittering, designing or learning any of the latter!
Don't worry if you think you don't have any experience. It's all about individual style and experimentation, no experience required, so come, enjoy the creative fun and help us to show how slow fashion can really make a difference.
For all the people who weren't able to join our meetups in the evenings, this time we scheduled a meetup on a Saturday afternoon. There will be free drink and nibbles for all who attend and an opportunity to meet and mingle with other likeminded people. Workshop is for free.
And as always, this will be a No-Charge Workshop. You can register through our MEETUP webpage or drop us a line by e-mail. You are more than welcome

WEDNESDAY 24 MAY, 2017
Make the 24th of May a Red-Letter Day!
Would you like to study at our international boutique academy in Amsterdam, the Netherlands? Our last interview day for foundation and bachelor courses starting in September is on Wednesday, May 24th, and it would be fantastic if you were there. So please take that step and contact us, even if you are not sure but have a couple of questions. Read more about the admission procedure.
You are always most welcome to call us at +31 (0)20-4896692 or email us!

FRIDAY APRIL 14, 2017
free friday – meetup & workshopS
Friday, April 14th we would like to invite you to come along to our meetup. The theme is creativity and networking, so you can come and talk shop without having to take a day off. We will also be holding two workshops, Fashion Design and Fashion Styling. There will also be a drink and a snack waiting for you. It would be great to see you there. Entrance is free, but please come on time! We look forward to seeing you on Friday, April 14th from 3 – 4.30 p.m.
These workshops are open to all and are free of charge.

FRIDAY APRIL 7, 2017
second INTERVIEW DAY FOR INTAKE 2017-2018 BACHELOR AND FOUNDATION PROGRAMMES
Friday, April 7th is the second interview day for the September 2017 intake. Are you considering applying for one of our undergraduate programmes or for the foundation course? Then we ask you to fill in a 'request information' form. We will then contact you as soon as possible to make an appointment with you and perhaps we will invite you for this interview day.

TUESDAY, APRIL 4, 2017
SHORT COURSE FASHION FORECASTING, MARKETING & BUYING
This very popular short course starts again on Tuesday the 4th of April! Are you eager to gain a marketable range of knowledge and skills in the areas of fashion, ranging from marketing through to trend forecasting and buying? Then join our short course Fashion Forecasting, Marketing and Buying starting April 4th, 2017 and prepare your self for 8 weeks of a true eye opening experience.

WEDNESDAY, MARCH 29, 2017 – 6.30 P.M. TILL 8.30 P.M.
WORKSHOP FASHION ILLUSTRATION
Our first workshop Fashion Illustration filled up very fast. So back by popular demand we are happy to announce another Workshop Fashion Illustration on Wednesday 29th of March from 6.30 pm till 8.30 pm. If you missed the last one, or have been wondering what this workshop is all about, this is for you. Come and join us! This meet up is a great way to ease into the world of fashion illustration. Don't panic if you have no experience!. You will have the chance to develop a way of illustrating and drawing for fashion that will make you feel far more confidant and creative. See you all on the 29th of March at 6.30 pm.
Workshop is open to all and for free!

SATURDAY MARCH 25, 2017 – OPEN DAY 2 P.M. – 4 P.M.
If you are interested in becoming one of the lucky twelve then please come and pay us a visit and have a personal chat with us on Saturday the 25th of March between 2 p.m. and 4 p.m. We will gladly take the time to discuss the admissions procedure with you and let you get acquainted with teaching staff and students. Our doors are open between 2 p.m. and 4 p.m. Do come and pop in, we look forward to meeting you. Please send us an email to schedule a meeting with one of our members of our teaching staff.

FRIDAY,  MARCH 24, 2017 – 1.30 P.M. – 2.45 P.M.
FREE FRIDAY  – FASHION TREND FORECASTING – AFTERNOON SESSION
We invites you to join us for an informal get-together and to participate in a fascinating lecture about Fashion Trend Forecasting. This afternoon session will start at 1.30 pm and end at 2.45 p.m. The lecture will last around 50 minutes, leaving plenty of time for questions. It is open to all and for free. You don't need any special knowledge, other than an interest in fashion, of course. The lecture is a teaster of the short course Fashion Forecasting, Marketing and Buying.
It is advisable to send an email as soon as you can in order to be assured of a place.

Do the items above make you feel like you're missing out? Then why not come along to one of our upcoming open days or call us for a personal appointment. You can have a look around the academy and we'll be there for a chat or to answer any questions you may have.