Calendar

Amsterdam Fashion Academy is more than a top-flight fashion school. It has consciously chosen to be a hub of small-scale, personal, student-centred learning in a supportive environment. Not just for our full-time students but also for anyone interested in fashion who wants to broaden and deepen their knowledge. Whether you choose to attend a part-time course, short course or if you just want to attend a free MEETUP. You're more than welcome.

In the calendar below you can find all the activities planned to take place at in the second semester of this academic year 2017-2018. Please check this calendar regularly since it is updated on a weekly basis.   

OPEN DAY
July 10
Would you like to study at our international boutique academy in Amsterdam starting in September 2018?
Then please sign up to our open days and have a personal chat with us. We will be pleased to show you our elegant Boutique Academy in Oosteinde 1, in the city centre. Please fill out this form.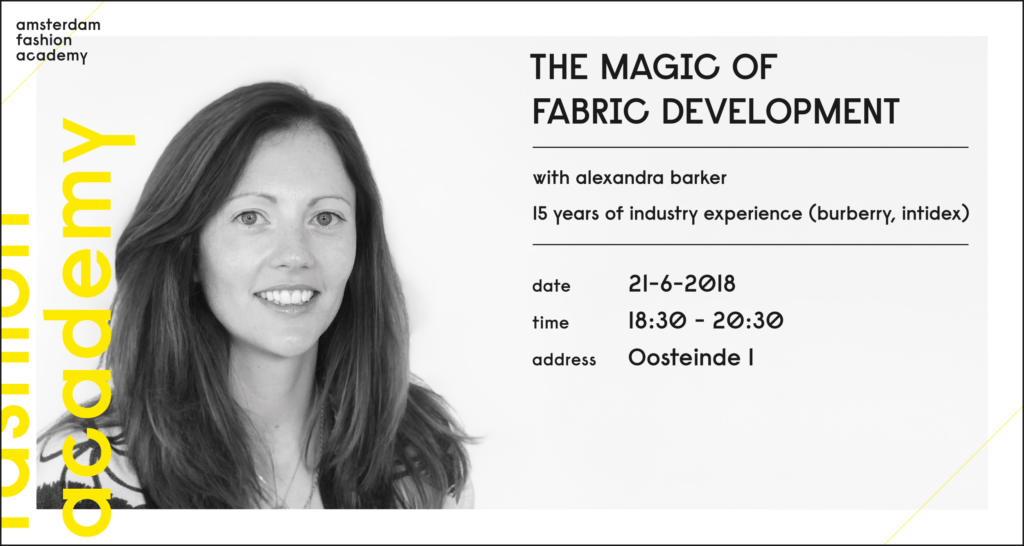 MEETUP
THE MAGIC OF FABRIC DEVELOPMENT
JUNE 21, 2018
18:30 TO 20:30
Previously at the last Meetup we shared the importance of collection management and now we'd like to go a layer deeper and offer you an insider's look into the magic of Fabric Development, a critical component in the overall design and manufacturing process. Our guest speaker is Alexandra Barker who has over 15 years of industry experience across a wide spectrum from fast fashion design at Inditex in Spain all the way through to over 8 years in fabric design and development, mainly at Burberry in London. Alexandra will share some in depth personal experiences of working within Burberry's design team and how she developed unique fabrics and relationships working with mills from around the world.
As well as discussing textiles, Alexandra will also share her personal journey and how she has consciously varied her academic and professional experiences over the years. This includes everything from her Master's degree at the London College of Fashion to a Savile Row Tailoring Apprenticeship and how this has helped focus and centre her mind on her current direction after leaving Burberry in 2016.
Six months ago Alexandra re-located from London to Amsterdam. She will speak candidly about her future desires in building her own unique brand identity, supporting slow fashion and sustainability, inspired ever more so by the approach of the Netherlands and the openness of Amsterdam.

Do the items above make you feel like you're missing out? Then why not come along to one of our upcoming open days or call us for a personal appointment. You can have a look around the academy and we'll be there for a chat or to answer any questions you may have.