Calendar

Amsterdam Fashion Academy is more than a top-flight fashion school. It has consciously chosen to be a hub of small-scale, personal, student-centred learning in a supportive environment. Not just for our full-time students but also for anyone interested in fashion who wants to broaden and deepen their knowledge. Whether you choose to attend a part-time course, short course or if you just want to attend a free MEETUP. You're more than welcome.

In the calendar below you can find all the activities planned to take place at in the second semester of this academic year 2017-2018. Please check this calendar regularly since it is updated on a weekly basis.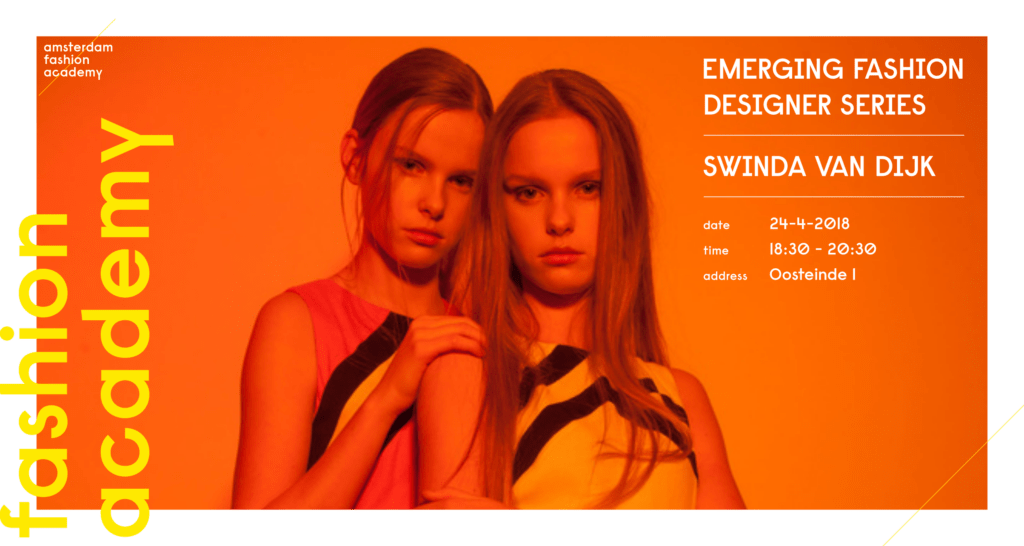 MEETUP EMERGING FASHION DESIGNER SERIES:
SWINDA VAN DIJK
APRIL 24, 2018
18-30 – 20:30
We are proud to introduce you our alumna Swinda van Dijk, whose new collection TRANSITION has been published on Vogue Italia.
"The dresses are elegant, edgy, timeless and the designs are beautifully wearable. They are characterised by the play of light and shadow as they have transparent inserts of georgette and organza. This ready-to-wear collection is also influenced by the architecture of Rem Koolhaas. Within the collection, I used viscose, wool and silk, creating a luxurious and delicate design. The result is that one can wear it to a chic party as well as to the office".
Craftsmanship is in the DNA of Swinda. Refined fabrics and eye details are combined to captivate a luxurious design. Her career really started to blossom when started working for the Dutch fashion label JANTAMINIAU, which is internationally renowned as the preferred choice by Her Majesty Queen Máxima of The Netherlands. After JANTAMINIAU, Swinda continued her design career working for well-known Dutch commercial brands. Gaining experience in the haute couture and as well as the commercial side of fashion enriched Swinda van Dijk's vision with more diversity and allowed her to establish her own signature.
Join the Meetup and you will learn a bit about Swinda, how she set up her business and how she is running it, besides having the opportunity to take an insight look at her wonderful collection.
The Meetup is free!


OPEN DAYS
MAY 8, 2018
JUNE 1, 2018
JUNE 15, 2018
Would you like to study at our international boutique academy in Amsterdam starting in September 2018?
Then please sign up to our open days and have a personal chat with us. We will be pleased to show you our elegant Boutique Academy in Oosteinde 1, in the city centre. Please fill out this form.

Do the items above make you feel like you're missing out? Then why not come along to one of our upcoming open days or call us for a personal appointment. You can have a look around the academy and we'll be there for a chat or to answer any questions you may have.