Teaching fashion in the time of Coronavirus
Fashion education does not stop during the pandemic of Covid-19. With an awareness of the challenges, fashion courses in a virtual environment need to be conceived by thinking out-of-the-box and provided in creative ways. The Amsterdam Fashion Academy adapted immediately to using a VLE Virtual Learning Environment through which the students can attend classes of illustration, collection development, pattern cutting and textiles, alongside all lectures-based lessons, one-to-one sessions and interactive discussions.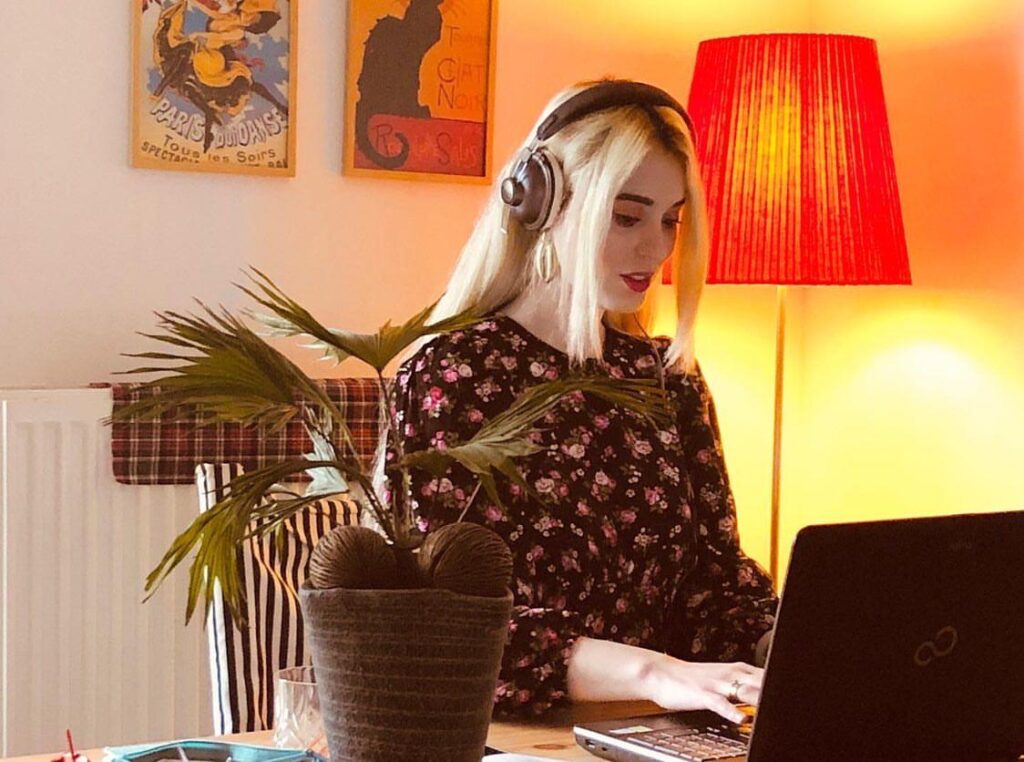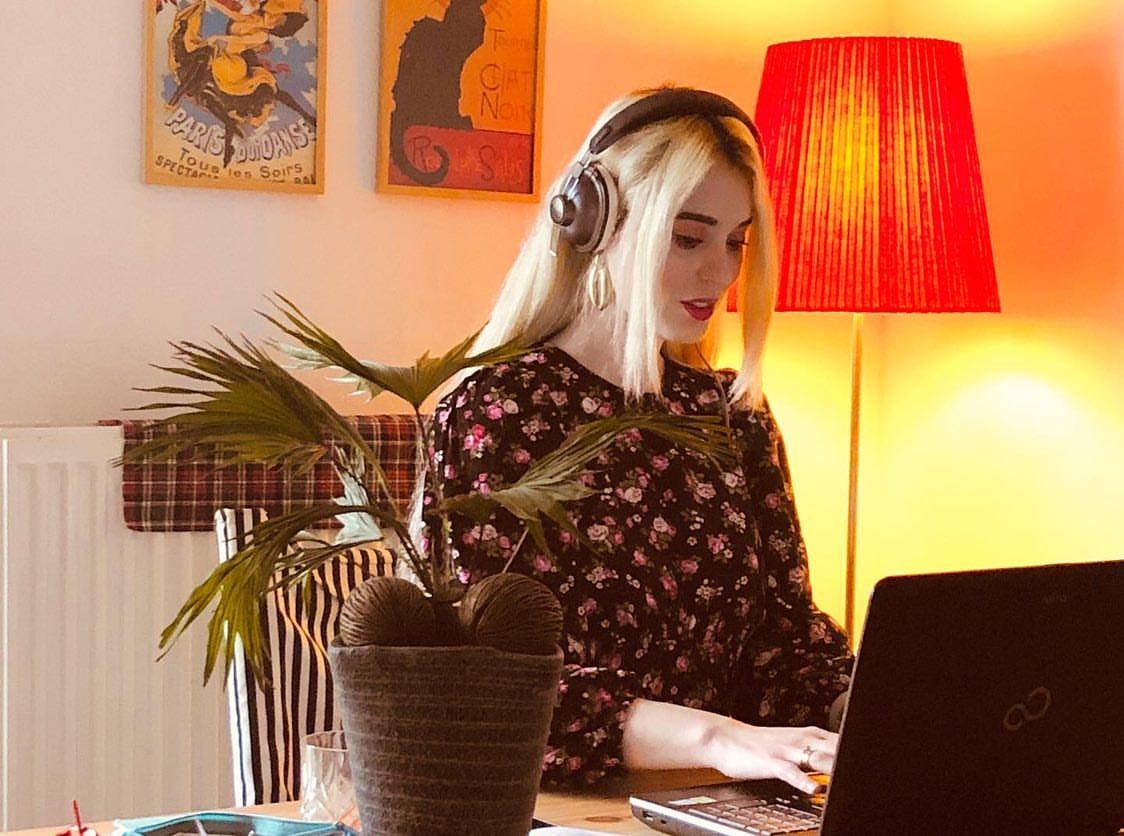 To organise and activate the Virtual Learning Environment, the Amsterdam Fashion Academy has been supported by parent company Luiss Business School from Italy – which has already been using the platform since the start of the quarantine in Italy – and Francesca Mastrogiacomi, former Learning Design Innovation Manager at Google Digital Academy and current Professor of Practice of Digital Transformation and Responsible of Digital Innovation and Business Transformation at Luiss Business School.
"Digital technology is in Luiss Business School DNA", commented Paolo Boccardelli, CEO of Amsterdam Fashion Academy and Dean of Luiss Business School. "Since day 1 of lock down in Italy, Luiss Business School seamlessly switched to digital classrooms and workgroups: as of today, approximately 1,250 students of the School – connecting, among other countries, from China, the US, Spain, Germany – attended an overall amount of over 4 million hours of synchronous live lessons and workshops".
According to Deborah Pulleyblank, Academic Director of Amsterdam Fashion Academy: "The Amsterdam Fashion Academy is fully committed to provide students with a quality learning experience, which as far as is possible, replicates the teaching and learning that usually takes place on the physical campus. The use of digital technology to provide access to students from around the world has become a reality in a very short time. It gives the students an experience of working in a way that replicates industry practice, digital group meetings, online presentations of ideas and communication skills. This in turn benefits their digital literacy skills and they are engaging in an inclusive and innovative way of learning".
Amsterdam Fashion Academy provided the lecturers with kit of tools to facilitate the online teaching, enhance students experience and engagement, pre-record tutorials and make practical demonstrations through high quality videos. The kit includes professional headset with integrated microphone, high-definition webcam, LED ringlamp, flexible smartphone holder, digital drawing tablet, lightbox and body form.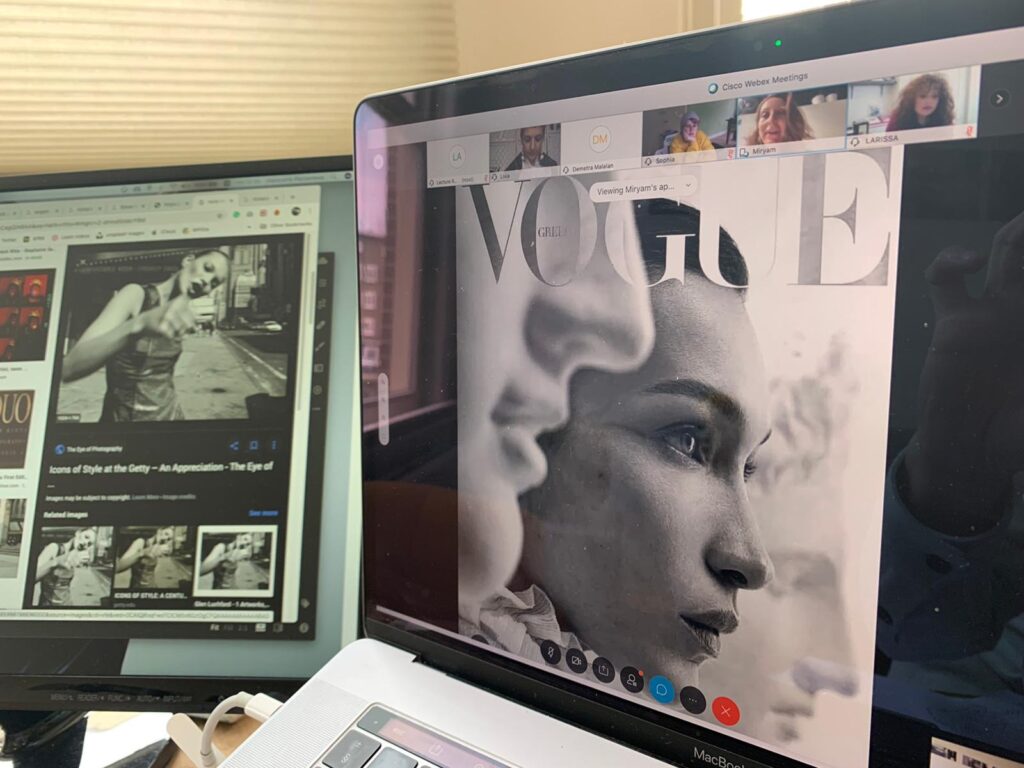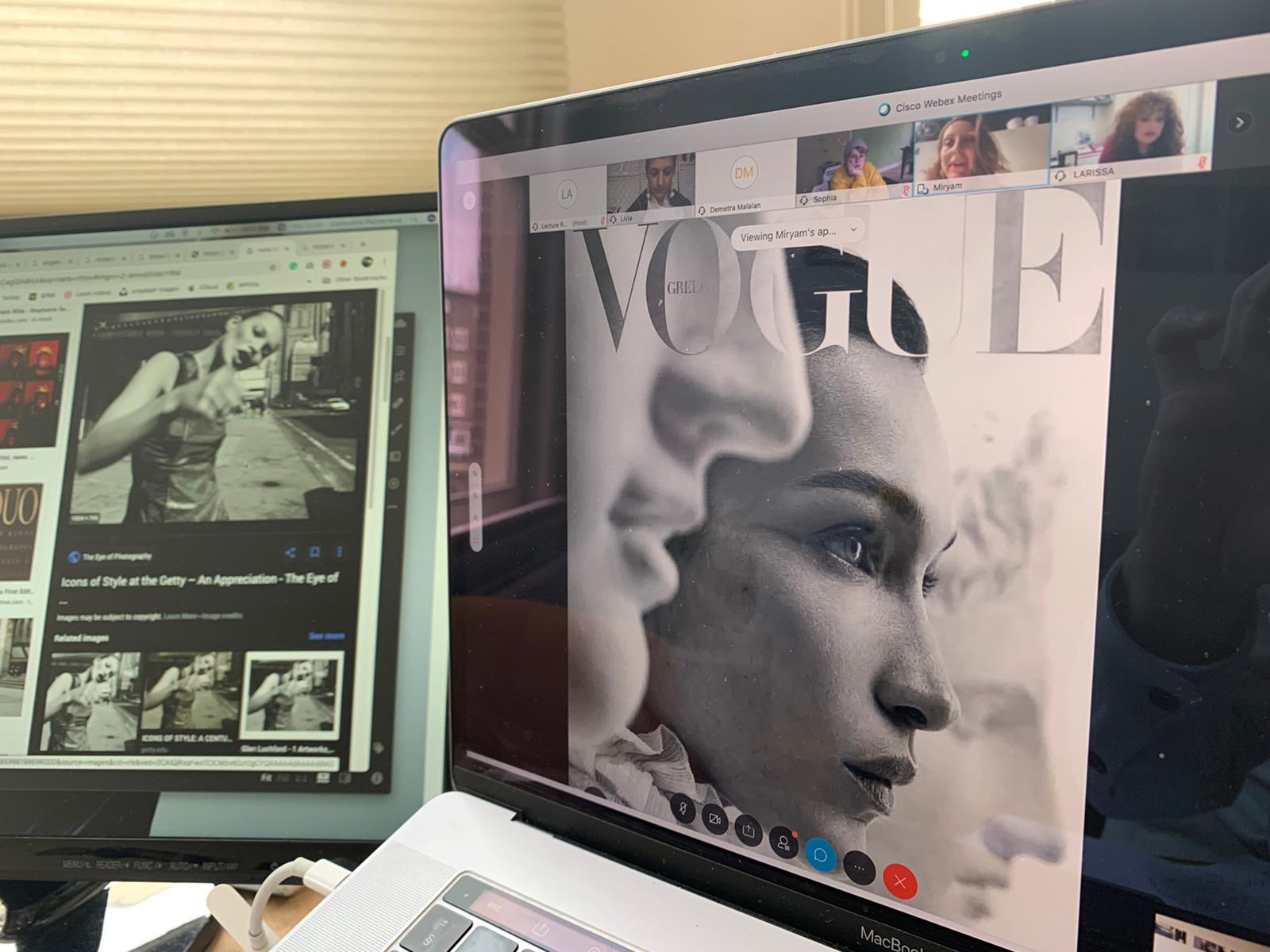 This is a new way of working for some, but it replicates the way more and more people are interacting in an ever more digital focused industry. For instance, Adele Parker, full-time lecturer in the BA (Hons) Fashion Design and Foundation Diploma, is using the digital drawing tablet which enables her to show on students' screens her live sketches. Giancarlo Pazzanese, lecturer in both BA (Hons) Fashion Design and BA (Hons) Fashion Business, is exploring teaching using two cameras and two screens for more interactive and brainstorming classes. Laura Malone, full-time lecturer in all programmes, shows to students through the webcam how to manipulate fabric using a body form and how to include these experimentations in the design sketchbooks. Tessa de Graaf shows to her fashion illustration students how to draw on different surfaces and with different materials they find at home, such as drawing using coffee on a plate.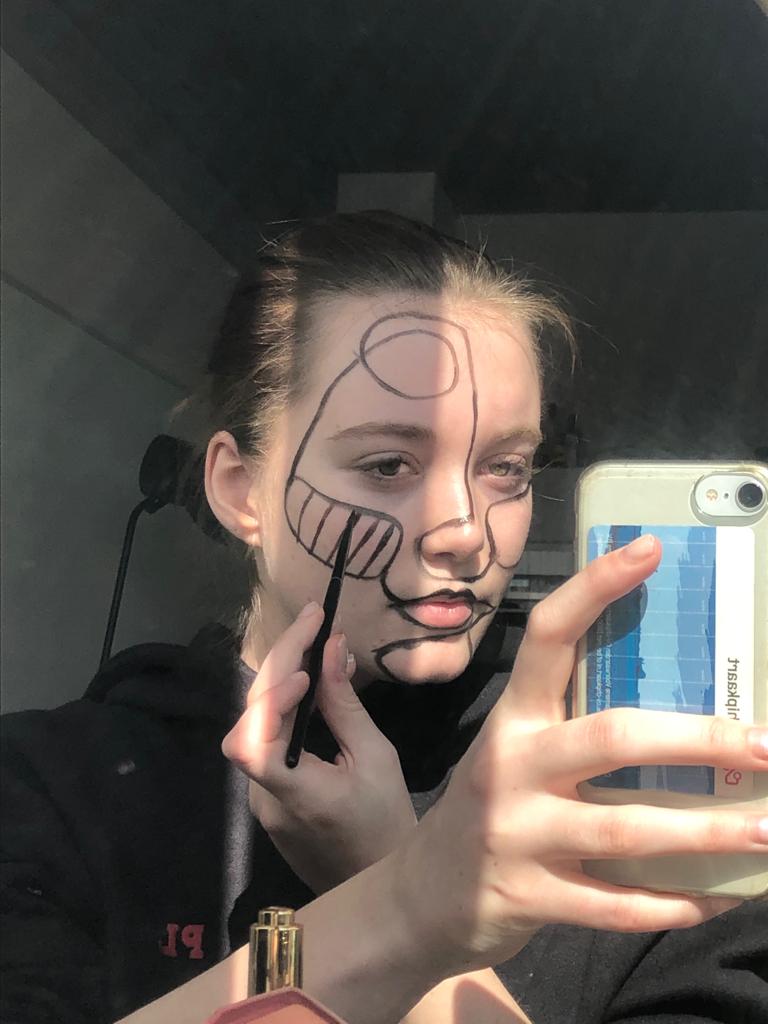 Cristiano Carciani, Head of Academic Affairs and BA (Hons) Fashion Design Programme Leader, highlights that the digital virtual experience allows an inclusive approach in the field of education. Recorded lectures and step-by-step tutorials can be accessed by international students from anywhere in the world at any time, while the option to turn on and off the microphones or the cameras allows students to participate actively to the class or to be simply a listener. "In the virtual teaching/learning world all options are allowed", Cristiano Carciani says.
According to Radha Jethu, BA (Hons) Fashion Business Programme Leader, the digital environment allows to supervise the student on a daily base, especially while writing the dissertation in the final year, which is a very stressful moment for the students. By working from home during the Coronavirus pandemic, senior students can fully focus on their academic research and are able to connect with the tutor every time they need.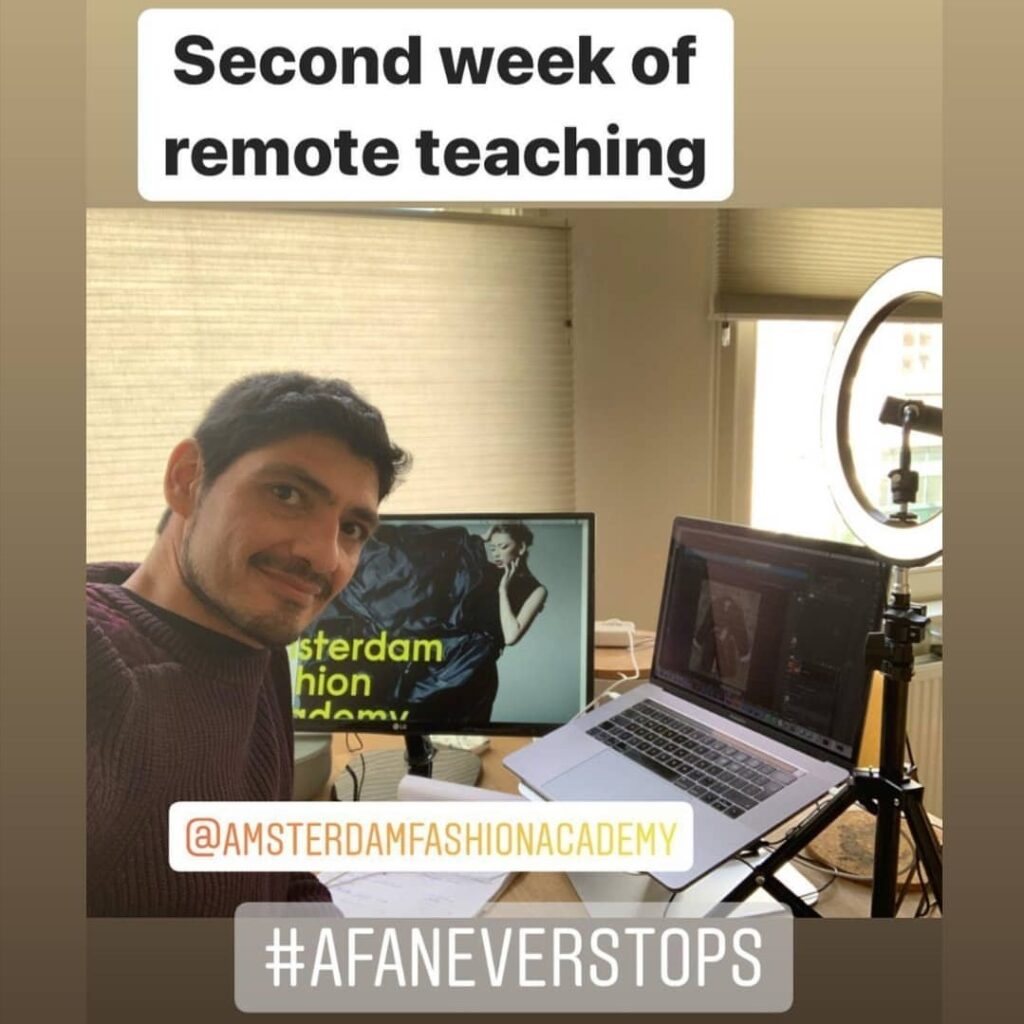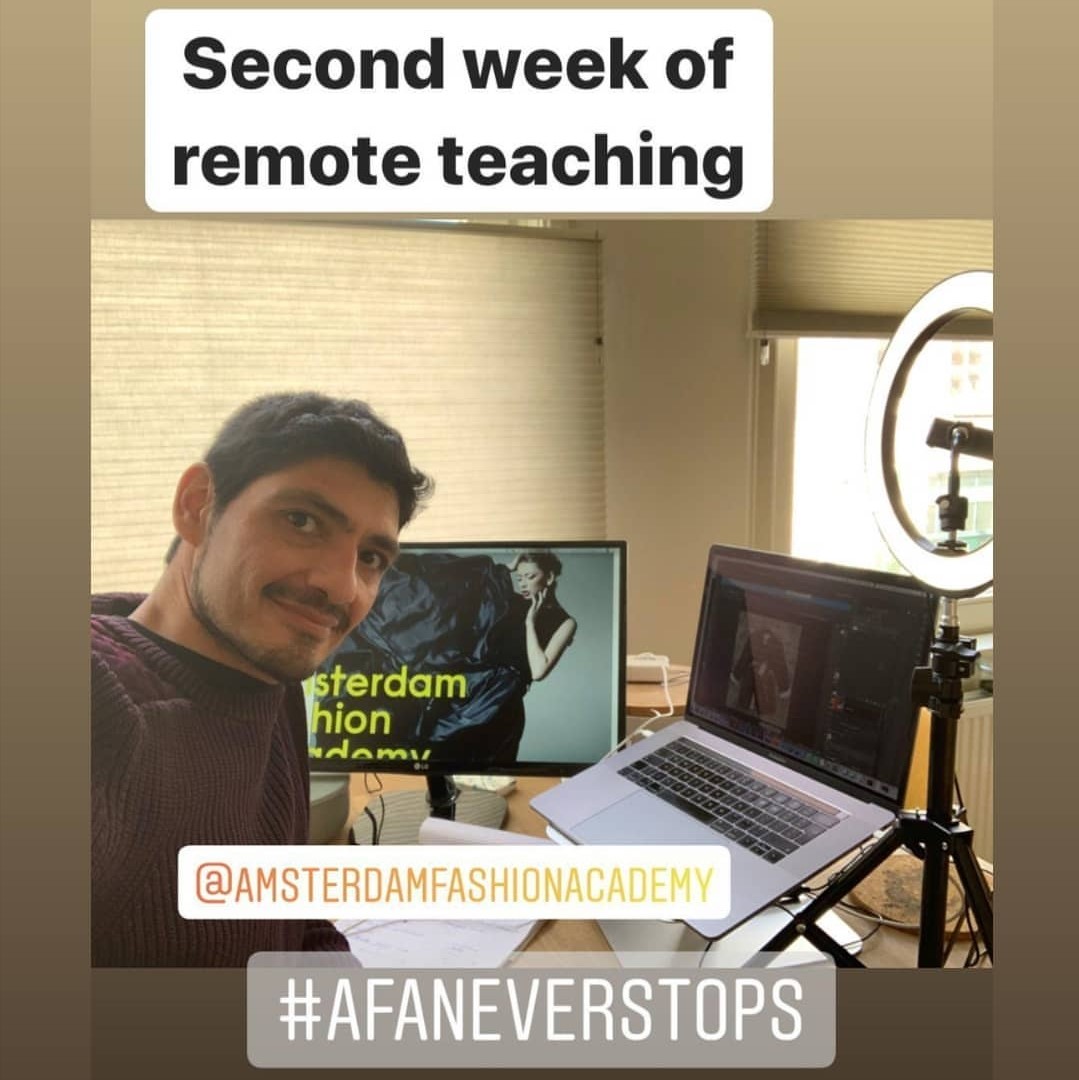 "We need to make sure we are engaging the students, equipping them with knowledge and tasks to complete without losing their attention", Adele Parker comments. "I am very excited about the kind of content we can deliver online and it has opened up my thinking to the kind of things possible to teach in an online class. I've already got into the habit of recording anything creative I do to give me class content".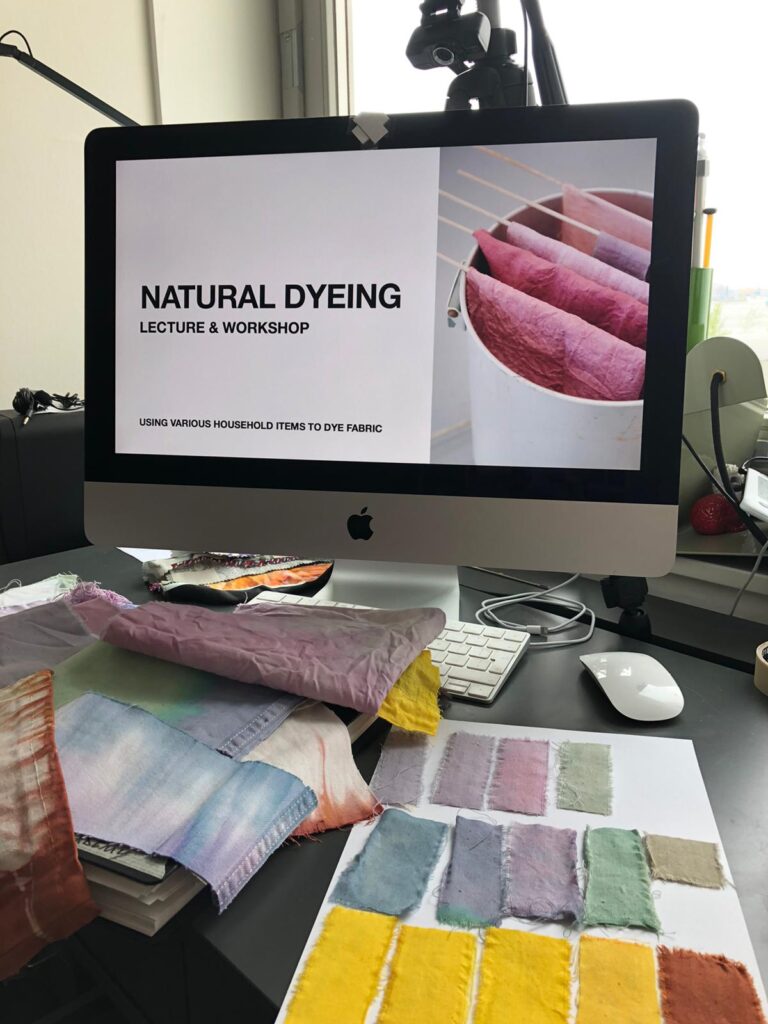 "As a lecturer, I have to prepare more carefully every session", Giancarlo Pazzenese adds. "I need to give more structure to the students and this sometimes limits improvisation. A second monitor comes in handy, then you can see the students and share your desktop at the same time. Having body language feedback is very important for the lecturer".
Amsterdam Fashion Academy is also aware of the health and wellbeing of learners in the time of Coronavirus, so it is structuring the sessions to give time away from the computer screen to experiment with traditional techniques and to talk to each other, in order to reduce the social distancing. The teaching and learning is supported with one-to-one tutorials and it is planning to introduce online wellbeing sessions to help the students cope with the current crisis.