Fashion Files 2019 Exhibition: one year of students' projects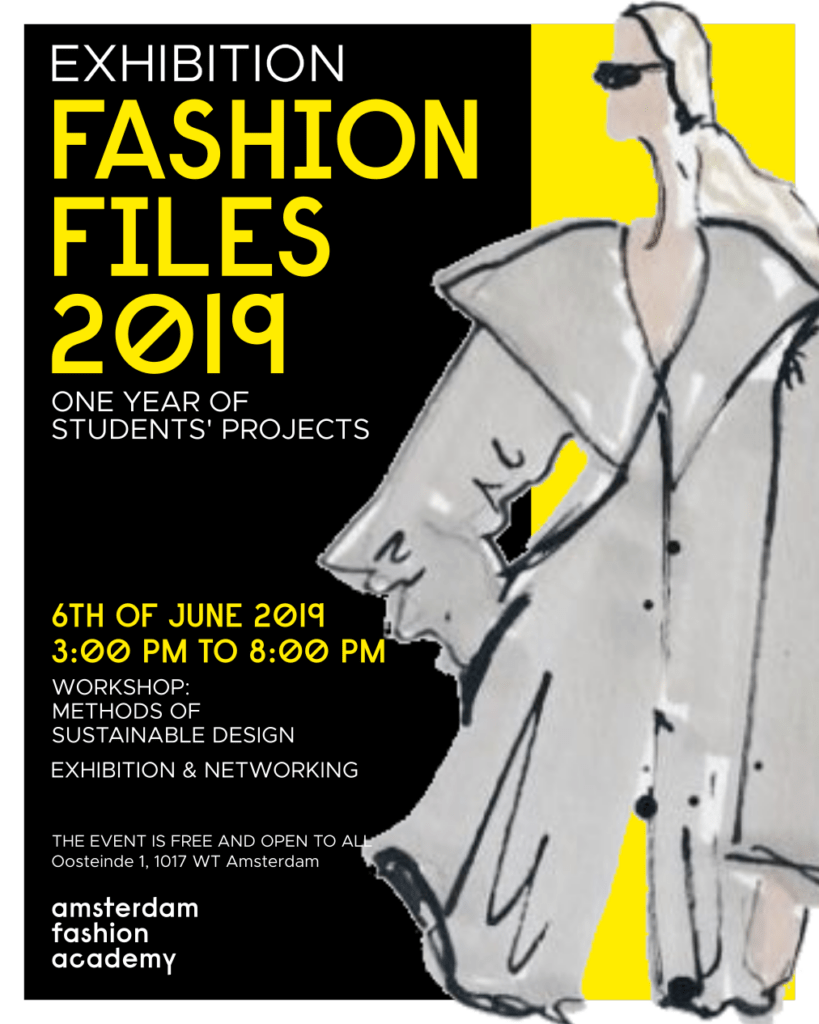 Would you like to see what the students have created during this academic year at our international fashion academy? Are you interested in studying a Bachelor's degree in fashion? Do you dream of living in Amsterdam? Or are you simply looking for a fashion exhibition in Amsterdam? Come and attend our end-of-year "Fashion Files 2019 Exhibition: one year of students' projects" on Thursday, 6th of June between 3:00 pm and 8:00 pm at the Amsterdam Fashion Academy, Oosteinde 1, 1017 WT Amsterdam.
The Fashion Files 2019 exhibition is a celebration of a year full of ideas, creativity, challenges and emotions. All our students, from the Foundation Diploma to third year Bachelor's (Hons) degree programs will showcase their creations which are the culmination of all their hard work and endeavor since September.
To put Fashion Files 2019 exhibition into a global perspective, the afternoon starts at 3:00 pm with the workshop "Design Methods for Sustainability" by lecturer Alexandra Barker. This workshop highlights the challenges facing humans and the planet today and discussions the Anthropocene era of man-made change. We will look at ways in which design methods relate directly to fashion design for sustainability by creating a balance in design practices between ourselves and nature. We will explore and re-think the essence of creative design, using sustainable methods and frameworks to guide the process of responsible design, so we can all contribute to a better future.
After the workshop, from 5:30 pm to 8:00 pm, visitors are welcome to explore the facilities of the Amsterdam Fashion Academy where the students and lecturers will be more than happy to explain techniques and inspirations they have used in their projects. From sketchbooks to styling photoshoots, from garments to moodboards, the exhibition includes work from the three programs: Foundation Diploma, BA (Hons) Fashion Business, BA (Hons) Fashion with Textiles Design.
Join us on June 6th and find out also how you can apply for our fashion university and start in September 2019.
Please could you let us know that you are coming so we can have a good idea or how many guests do we need to cater for? Just drop us a line at: info@amsterdamfashionacademy.com
Thanks in advance and we look forward to welcoming you to our fabulous Fashion Files 2019 exhibition on the 6th of June.