Calendar

Amsterdam Fashion Academy is more than a top-flight fashion school. It has consciously chosen to be a hub of small-scale, personal, student-centred learning in a supportive environment. Not just for our full-time students but also for anyone interested in fashion who wants to broaden and deepen their knowledge. Whether you choose to attend a part-time course, short course or if you just want to attend a free MEETUP. You're more than welcome.

In the calendar below you can find all the activities planned to take place at in the first semester of this academic year in October 2017. Please check this calendar regularly since it is updated on a weekly basis.   


MEETUP: HAUTE COUTURE
TUESDAY OCTOBER 31, 2017
6:30 PM – 8:30 PM
1858: Charles Frederick Worth's Fashion House opens his doors in Paris. According to several historians, it is with Worth that Haute Couture was born. But, what is Haute Couture?
Haute Couture is the sector of fashion design with top-level quality standards: each piece is custom-made for a special client, for a specific woman, using the finest fabrics and all kind of very precious materials, and according to traditional artisanal techniques.
For a hundred and fifty years, Haute Couture incessantly developed, thanks to designers who left a mark to each era with their unique style and creative talent. Names like Chanel and Dior, Givenchy and Balenciaga, Valentino and Capucci, later followed by Jean Paul Gaultier and Versace, up to actual Dutch designers Iris van Herpen and Viktor & Rolf have been synonyms not only of incredible materials and traditional craftsmanship, but, above all, of a deep and continuous research on innovative silhouettes and sophisticate new shapes.
Our Italian senior lecturer Cristiano Carciani will share with you his passion and experience in Haute Couture, through a rich visual trip in fashion history and a practical experimentation with pattern cutting.
You are welcome to be part of this luxurious House of Fashion evening!
You can register through our MEETUP webpage or drop us a line by e-mail. You are more than welcome.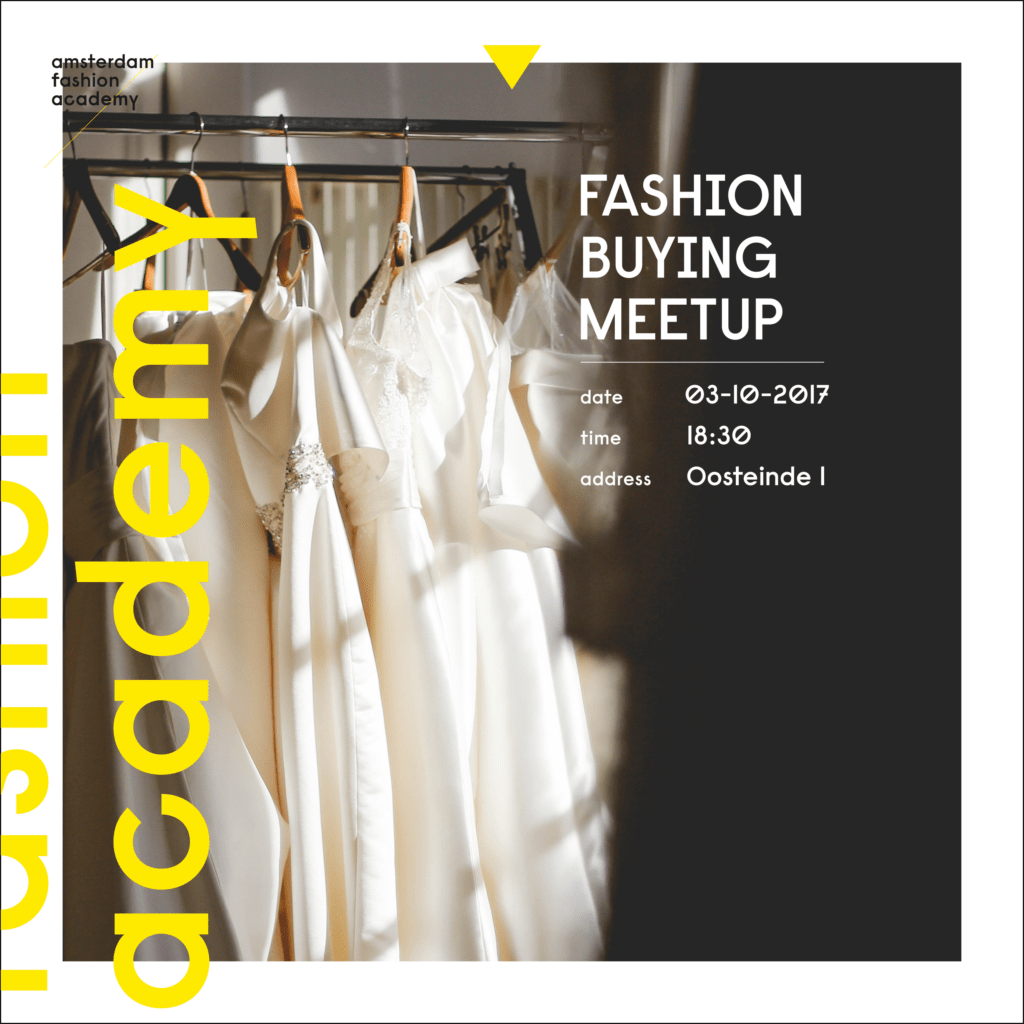 MEETUP: FASHION BUYING
TUESDAY OCTOBER 3, 2017
6:30 pm – 8:30 pm
Do you want to learn more about the fashion buying environment? Well why not join us on the 3rd October at 6:30pm to gain an insight into what is required to be a buyer in the industry.
You will hear about how a buyer requires a creative mind and will show your business acumen. You will understand a buyers day to day which involves speaking to suppliers, managing a team, leading in garment fit sessions, negotiating cost prices, critical path management as well as always having an eye for the next trend.
Understand the personal skills you need, which includes being a problem solver, a quick thinker and be confident in your decisions as well as showing strong leadership qualities and good presenting skills. You also have to always think outside the box on issues such as sustainability, maintaining profit margins and always go out of your way to push your department on a global front.
During this meet up Gina will tell you a little bit about herself and her 10 years' experience as a buyer, you will also cover how the above impacts a buyers day to day life.
You can register through our MEETUP webpage or drop us a line by e-mail. You are more than welcome.

FRIDAY APRIL 7, 2017
second INTERVIEW DAY FOR INTAKE 2017-2018 BACHELOR AND FOUNDATION PROGRAMMES
Friday, April 7th is the second interview day for the September 2017 intake. Are you considering applying for one of our undergraduate programmes or for the foundation course? Then we ask you to fill in a 'request information' form. We will then contact you as soon as possible to make an appointment with you and perhaps we will invite you for this interview day.

TUESDAY, APRIL 4, 2017
SHORT COURSE FASHION FORECASTING, MARKETING & BUYING
This very popular short course starts again on Tuesday the 4th of April! Are you eager to gain a marketable range of knowledge and skills in the areas of fashion, ranging from marketing through to trend forecasting and buying? Then join our short course Fashion Forecasting, Marketing and Buying starting April 4th, 2017 and prepare your self for 8 weeks of a true eye opening experience.

WEDNESDAY, MARCH 29, 2017 – 6.30 P.M. TILL 8.30 P.M.
WORKSHOP FASHION ILLUSTRATION
Our first workshop Fashion Illustration filled up very fast. So back by popular demand we are happy to announce another Workshop Fashion Illustration on Wednesday 29th of March from 6.30 pm till 8.30 pm. If you missed the last one, or have been wondering what this workshop is all about, this is for you. Come and join us! This meet up is a great way to ease into the world of fashion illustration. Don't panic if you have no experience!. You will have the chance to develop a way of illustrating and drawing for fashion that will make you feel far more confidant and creative. See you all on the 29th of March at 6.30 pm.
Workshop is open to all and for free!

SATURDAY MARCH 25, 2017 – OPEN DAY 2 P.M. – 4 P.M.
If you are interested in becoming one of the lucky twelve then please come and pay us a visit and have a personal chat with us on Saturday the 25th of March between 2 p.m. and 4 p.m. We will gladly take the time to discuss the admissions procedure with you and let you get acquainted with teaching staff and students. Our doors are open between 2 p.m. and 4 p.m. Do come and pop in, we look forward to meeting you. Please send us an email to schedule a meeting with one of our members of our teaching staff.

FRIDAY,  MARCH 24, 2017 – 1.30 P.M. – 2.45 P.M.
FREE FRIDAY  – FASHION TREND FORECASTING – AFTERNOON SESSION
We invites you to join us for an informal get-together and to participate in a fascinating lecture about Fashion Trend Forecasting. This afternoon session will start at 1.30 pm and end at 2.45 p.m. The lecture will last around 50 minutes, leaving plenty of time for questions. It is open to all and for free. You don't need any special knowledge, other than an interest in fashion, of course. The lecture is a teaster of the short course Fashion Forecasting, Marketing and Buying.
It is advisable to send an email as soon as you can in order to be assured of a place.

Do the items above make you feel like you're missing out? Then why not come along to one of our upcoming open days or call us for a personal appointment. You can have a look around the academy and we'll be there for a chat or to answer any questions you may have.