Sustainable fashion

In May 2015 the first ever 'Sustainability Dutch Eco Design Symposium' took place. Hosted and organised by the Amsterdam Fashion Academy, it was also part of the programme 'Partners for International Business' made possible by the Netherlands Enterprise Agency. The symposium exceeded all expectations. With a grand total of 140 participants and 11 international speakers, including 6 graduates in sustainable fashion, it was a highly varied and fascinating event.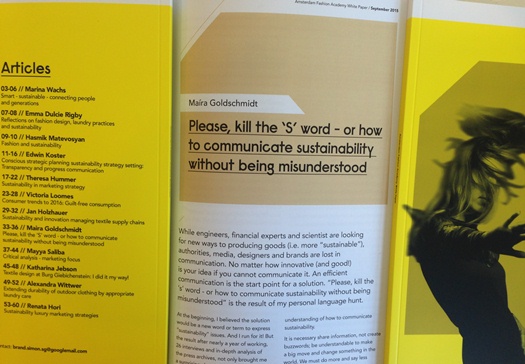 International platform for sustainable fashion
This symposium served as an important platform for national and international companies and students who want to delve further into the latest developments in the field of Sustainable Fashion. The evaluation has shown that the need for knowledge sharing is great and that having the opportunity to network with peers gave the event significant added value. In other words an event that certainly calls for a sequel.

White paper Sustainable Fashion
New knowledge and ideas arising from the presentations and workshops in the symposium have been put together in a white paper. Several international universities, including ESMOD, Fahmoda and the Amsterdam Fashion Academy have since compiled this information along with theses and expert opinions, and created a white paper entitled: 'Sustainable Fashion'. This white paper is supported by several leading professionals in the fashion industry. Prof. Dr. phil. Marina-Elena Wachs (DE), Hasmik Matevosyan (NED), Emma Dulcie Rigby, MA (UK) and Mayya Saliba (DE), who have written a personal foreword to express their opinions and recommendations with respect to sustainable fashion. The white paper can now be downloaded from our website and is to be published very soon. In addition, the white paper is to be published internationally allowing other interested parties to download it for free.
The symposium with its white paper 'Sustainable Fashion' is the first step towards an international fashion research centre. Leading international universities have already expressed their interest in cooperating with the Amsterdam Fashion Academy in the field of research. Debbie Pulleyblank, Head of School at the Amsterdam Fashion Academy: "The enthusiasm of other universities for research and collaboration has convinced us that setting up an international research centre can provide added value to both students and the fashion industry. Now it is time to formalise this cooperation. We are really looking forward to starting our international fashion research centre before the end of the year."

Presentations from the symposium are free to download

MASTERCLASS 1 – Environmentally Conscious Strategic Planning
MASTERCLASS 2 – Design, Manufacturing and Production
Jan Holzhauer – Future Fashion Lab Berlin
MASTERCLASS 3 – Marketing Strategie and Consumer Perceptions
Theresa Hümmer – Defacto research & consulting GmbH
Victoria Loomes – Trendwatching.com  + download presentation workshop