Studiekeuzebeurs Midden: November 26th-27th
On Friday 26th and Saturday 17th of November 2021, Amsterdam Fashion Academy will be at the university fair Studiekeuzbeurs Midden in Utrecht. You can find us at the stand number 103 from 9:00am to 5:00pm CET. We will be more than happy to meet you and tell you more about our programmes, show you students projects and answer to your questions.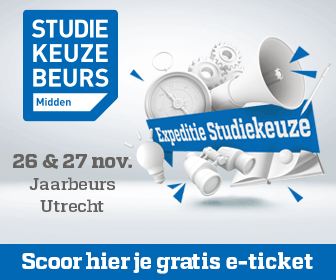 We offer 3-year full-time Bachelor's degrees with Honours validated by the reputable Buckinghamshire New University. A British Bachelor's Honours degree is one of the most widely established and recognised degrees worldwide.
BA (Hons) Fashion Business – 3 years
This is a university level bachelor's degree course enabling you to either move on to a master's degree or work at graduate level in the fashion industry. Topics such as fashion business, styling, branding, product development and historical and contextual studies involve theory, research, written articles applying Harvard referencing and practical assignments, such as managing projects, organisation of photoshoots and development of communications plans. A combination of internships and industry set briefs enable you to develop a thorough understanding of market trends, promotion and professional practice. You will write dissertation in third year along with a Final Major Project demonstrating and applying your expertise. You will learn to critically evaluate current thinking regarding fashion, ethics and sustainability.
BA (Hons) Fashion Design – 3 years
This programme is designed to provide you with a greater understanding and experience of the creative processes, knowledge base and technical skills required to enter the fashion industry. Through the study of fashion design and entrepreneurship principles you will be ready to enter the ever changing fashion industry through numerous routes, be it a corporate environment or self-employment. The programme involves both conceptual and trend driven design work through experimentation with creative cutting techniques, traditional pattern cutting, textiles, research, illustration, business and manufacturing skills and culminates in a final professional collection show and portfolio outcome exhibition.
Foundation Diploma in Fashion
We also offer a pre-degree Foundation Diploma in Fashion. This is a 1-year full-time programme that ensures access into a Bachelor's (Hons) degree. This programme is an exciting and innovative general introduction to the fashion industry that provides you the skills needed to understand and succeed on a fashion related degree programme. It is aimed at school leavers who don't meet the entry requirements for the BA (Hons) programme or who are unsure which of the BA (Hons) Fashion Design or BA (Hons) Fashion Business suits them best.
Amsterdam Fashion Academy is a boutique academy accredited by Buckinghamshire New University from UK and part of Luiss Business School, top business school in Italy, part of Luiss University. We only have a limited number of places making each one precious. This means that those who study here are highly motivated and eager to liberate and develop their creative spirit. We have the highest quality of teaching staff who flourish in the informal and friendly atmosphere along with being given the time and space needed to nurture individual talent and creativity.