Garment Construction

Collars, zips, waistbands, cuffs and hems: this Garment Construction summer course will give you knowledge on how to adapt patterns to your style, how to apply several sewing techniques and how to construct your own garment in a professional way.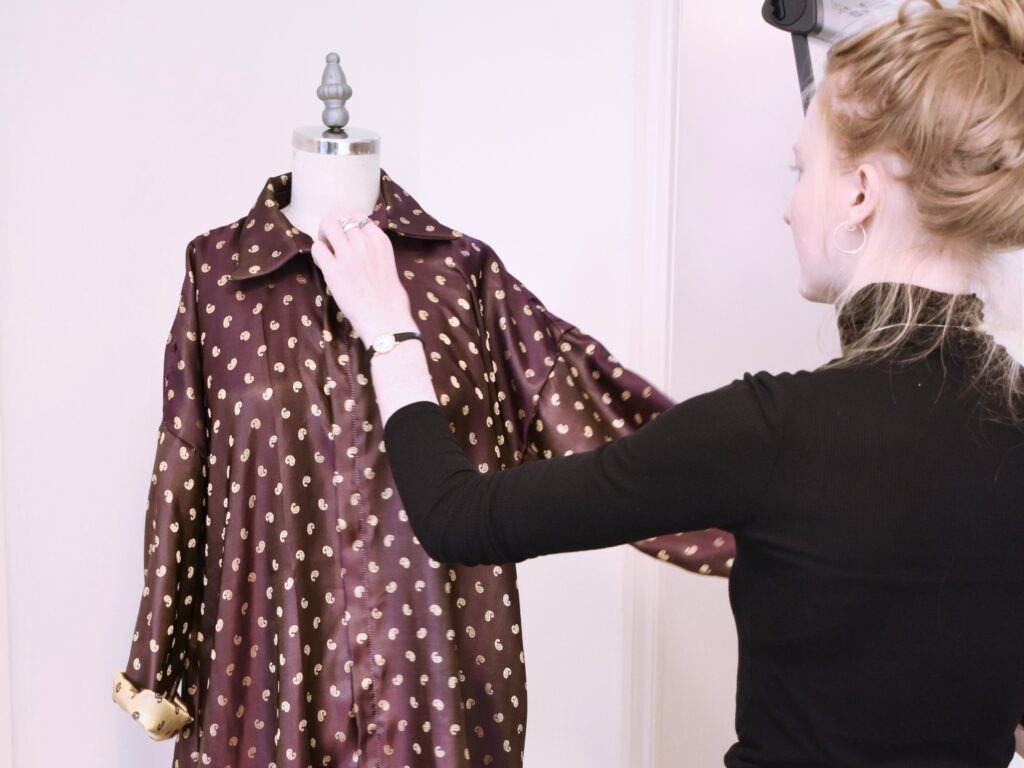 Course overview summer course garment construction
Within this one-week summer course Garment Construction you will use ready-made patterns to be adapted to your style, you will learn several sewing techniques and you will create your own garment, like a skirt, dress or shirt. This course is tailored for people with non to little sewing experience and for students who attended our Creative Pattern Cutting and Fashion Design summer courses.

Course outline summer course garment construction
Adapt pattern to your style
You will develop knowledge of a variety of pattern cutting techniques and will be introduced into the fundamental knowledge of identifying and recognising how to work with a basic block to create your own style and garment. These will be delivered through a series of practical demonstration and will allow you to practically apply the principles through your own interpretation.
Learn several sewing techniques
As part of the course, you will learn how to deal with several different fabrics and how to use the flat bed machines. During this week, our expert lecturer will teach you different sewing techniques, like couture techniques, hand sewing, seam finishing, etc.
Construct your own garment
This element of the course will allow you to focus on different types of collars, zips, waistbands, cuffs and hems. Thanks to the patterns manipulations techniques and sewing techniques learnt, you will be able to construct a garment and present it on the stand at the end of the course.
Small class
Just as all our courses, the class of the Garment Construction summer course will be small-size in order to offer to each student the personal attention and guidance the fashion design requires.

Who should attend?
This course is open to all students at any age, with varying levels of experience, including beginners. It is an intensive one-week programme for who are looking to broaden their understanding of fashion. There are no formal entry requirements and no age limits.
This summer course is also perfect for the students who completed the summer courses Creative Pattern Cutting and Fashion Design.
You can enrol in the Creative Pattern Cutting, Fashion Design and Garment Construction summer courses for a special price.

Language
English
Materials
Materials and computers are provided by the Amsterdam Fashion Academy. You will only need to bring 2,5m of fabric.

Starting date of the Garment Construction Summer Course 2020:
July 20th till July 24th, 2020
It is a one week course from Monday till Friday 9.30 a.m. till 4:00 p.m.

Additional information
Level
Beginner – Intermediate
Assignments
1
Tuition fee
€ 595,-
Certified
The Amsterdam Fashion Academy offers approved programs. Participants who pass the course will receive an Academy certificate of completion.
Registration: open for registration now
Don't hesitate if you would like to receive more information.
Call us on +31 (0)20-4896692 or e-mail  and speak to us about your education and training needs. We're here to answer any questions you might have. If you want to register, please fill out the form and send it back to us by e-mail.