Digital Technical Design part-time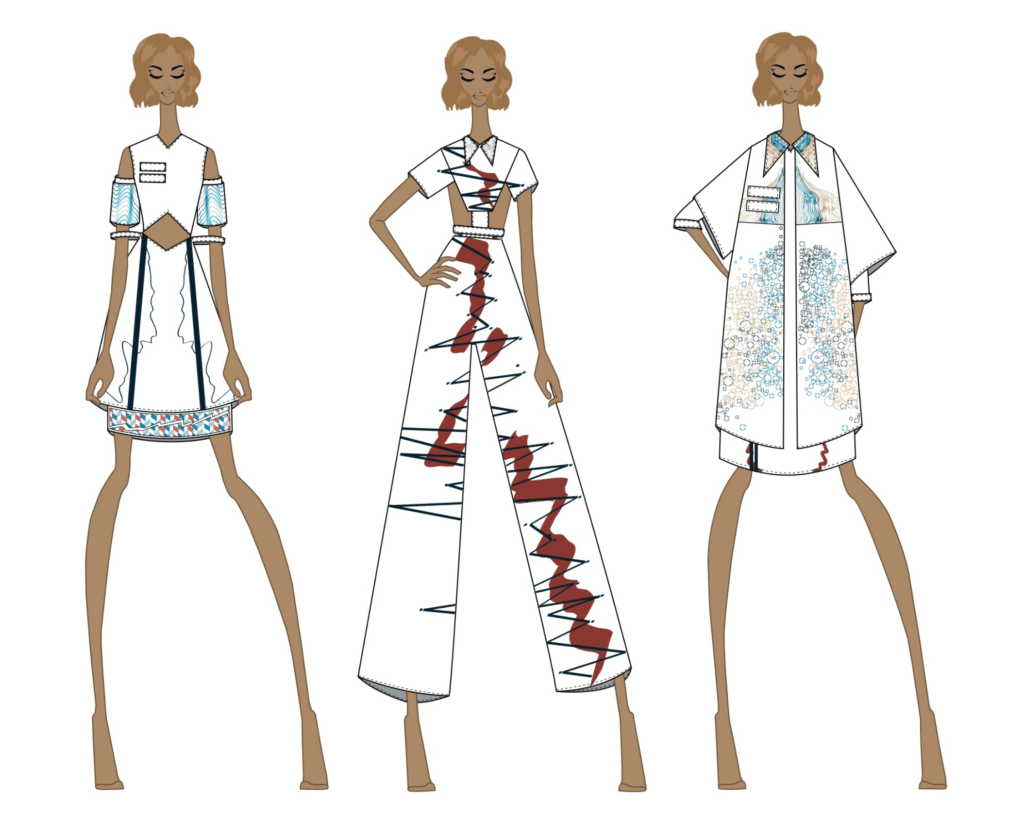 Creating Technical Drawings is a vital skill to have in the fashion industry. Technical drawings are used to explain how your designs work, giving important information and specifications that are necessary for designers, pattern cutters, machinists and production teams across the industry. This Digital Technical Design short course will show you how you can translate your fashion designs into technical drawings using Adobe Illustrator.

COURSE OVERVIEW
Various methods will be shared – starting from drawing flats by hand, then digitising your analogue designs, as well as creating your designs in Adobe Illustrator using a template. By the end of the Digital Technical Design short course you will be confident and efficient in creating your own Technical Drawings by hand as well as on Adobe Illustrator to fashion industry standards.
COURSE CONTENT
Introduction to creating flat drawings and its methodology – what is industry standard, what are they used for why are they important.
How to draw different garments by hand, including tops, skirts, trousers, coats, jackets, knitwear, etc.
How to transfer your analogue drawings into an Adobe Illustrator drawing.
How to create flats in Adobe Illustrator using a technical drawing template.
How to create complex garments – draped garments, shirts, coats, jackets, knitwear, etc.
How to create an intricate design element library – buttons, pockets, collars, trimmings, zips, etc.
How to add colour to your flats.
Creating colourway options and recolouring the artwork.
Creating a pattern in Illustrator.
Creating range plans and spec sheets.
Visualising your own design ideas.
Creative technical drawing.
Working with artboards and creating final presentations / technical packs with details and instructions.
Professional practice and exporting the final work.
THIS COURSE IS FOR YOU IF:
You have a fashion design background or working in the fashion industry and would like to gain confidence and skills using Adobe Illustrator to draw their designs to a professional and competent level.
You have basic Photoshop and Illustrator skills for fashion design or experience of similar software programmes. This is not a mandatory requirement.
You are computer literate as this is a fast-paced course.
MATERIALS
In order to fully participate in the practical exercises, please bring the following materials/equipment to the first class:
Laptop (Mac preferable)
Mouse / Wacom pen
IMPORTANT NOTE about Adobe Illustrator:
You need to have Adobe Illustrator installed in your computer prior to the start of the course.
If you do not have a subscription to Adobe Illustrator yet, you can sign up online. Keep in mind you will need the subscription for the whole duration of the Digital Technical Design short course. Click here to access the Adobe Illustrator subscription online. The cost of the subscription to Adobe Illustrator is additional to the fees for the course.
Basic materials will be provided, and during the first class you'll be advised regarding extra items you may wish to bring for your own use.

Fall 2020
October 27th to December 1st, 2020
WHEN
Tuesday and Thursday
6:00pm to 8:00pm
TUITION FEE**
€ 1.100
Early bird fee for Fall 2020 course available if you register and pay before July 30th, 2020.
CERTIFICATE
Certicificate of completion
* We kindly ask you to pay the enrolment fee within a week after your registration. Please, note that the enrolment fee is not refundable.
** The tuition fee doesn't include the cost of the subscription to Adobe Illustrator.

Adele Parker
Full-time lecturer.  She has a BA (hons) degree in Fashion Knitwear Design and worked within various companies such as Calvin Klein, Viktor & Rolf and Dante6.
Laura Malone
Full-time lecturer.  She has a BA (hons) degree in Art and Design and has long experience in womenswear design.