Bachelor's degree Fashion with Textiles Design (Hons)

The University awarded bachelor's degree Fashion with Textiles Design is aimed at students who intend to pursue careers as Fashion and/or Textiles Designers and involves both conceptual and trend driven design work through experimentation with creative cutting techniques, traditional pattern cutting, textiles, research, illustration, business and manufacturing skills and culminates in a final professional collection show and portfolio outcome exhibition.
Course overview Fashion with Textile Design (Hons) BA
The UK fashion industry alone consists of over 800,000 people. This programme will provide you with the skills you need to get on in this exciting and lucrative industry. The Fashion with Textiles Design BA (Hons) offers you a nurturing environment where you will develop industry standard skills in both fashion and textiles. You will expand your skills in pattern cutting, production techniques, CAD and design. We will give you what you need to set you on your way to become an independent creative thinker who can come up with innovative solutions in an ever evolving industry.
The programme will give you all you need to become the complete fashion professional. You will become an all-in-one Fashion Talent, possessing all the practical and technical skills combined with the know-how and insight to make your mark in fashion. Learn to create your concepts, inspire your design, craft your garments and market your make. You will learn all you need to take control of your fashion career. To be a future fashion entrepreneur you need to develop your innovative creative genius and fashion design talents together with CAD skills, marketing knowledge and shrewd business insight. A talented and convincing communicator, confident and self-reliant with the ability to stay one step ahead of the pack.
The course is taught through a series of practical project assignments, with key emphasis on quality of products and innovative design. The practical modules are delivered through a variety of workshops, demonstrations, lectures and seminars, but the most important aspect of this programme is that you become an individual designer. Thanks to our small classes and commitment we can achieve this together by providing each individual student with one to one tuition time every week.
We pride ourselves on our commitment to our students. We recognise that giving each student substantial personal support is key to helping them get the most out of the course and themselves and help them successfully enter into the international world of fashion and textiles.

Why The Amsterdam Fashion Academy
Personalised, unique, high-end, sophisticated courses
Small and intimate academy – informal and friendly atmosphere
Award-winning exclusive fashion boutique academy
Small classes and personal attention: Student-teacher ratio is 6 to 1
Students will be treated as individuals, not just as 'this year's intake
Ideal basis for a successful future in the fashion industry
Located in the city centre of Amsterdam
Extended network in the fashion industry

Programme structure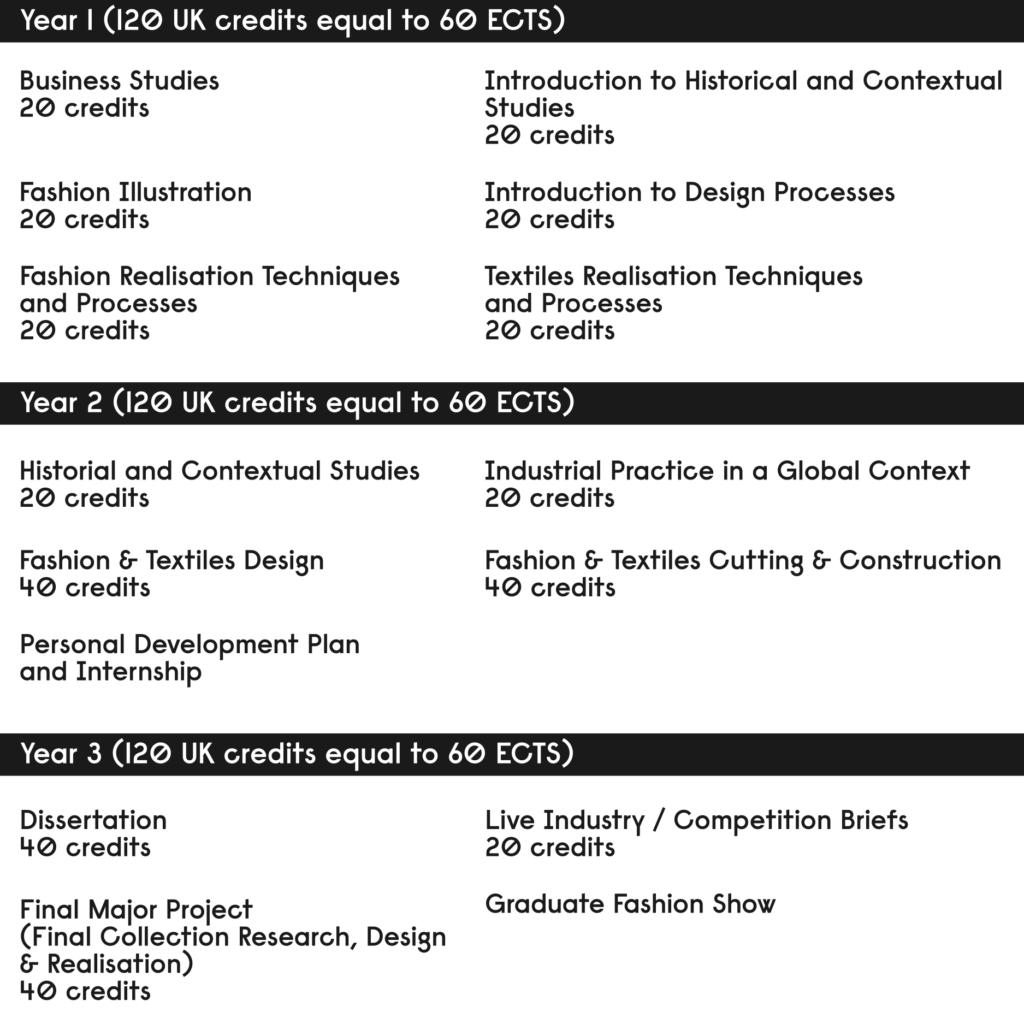 Students who successfully complete the programme will be awarded a UK validated Bachelor's honours degree in Fashion with Textiles Design. In accordance with UK requirements 120 credits points are available each year of study and students need to obtain 360 credits for successful completion of the three-years course.
Download an example of weekly timetable.

Career opportunities
Fashion Designer
Trend Designer
Textiles Designer
Pattern Drafter
Trend Forecaster
Creative Director/Head Designer
Fashion Buyer
Visual Merchandiser
Fashion Illustrator
Fashion Journalist
Costume Designer

Key facts
Duration: 3 years  full-time
Start programme: September 2020
Tuition fees*: first year € 16.750,-, second year € 13.750,-, third year € 10.500,-
Start admission: open for admission academic year 2020-2021
Maximum number of students: 12-14
*The Amsterdam Fashion Academy is a non-governmental and non-subsidized institute.
*Fees are equal for European and non-European students
Pleased be informed that we are not legally able to offer a student visa to anyone who doesn't hold a EU passport or Dutch resident visa to study in the BA (Hons) Fashion with Textiles Design.