Blog by Amsterdam Fashion Academy

September 2017
Fashion Buyer: "This is how you will dress this season"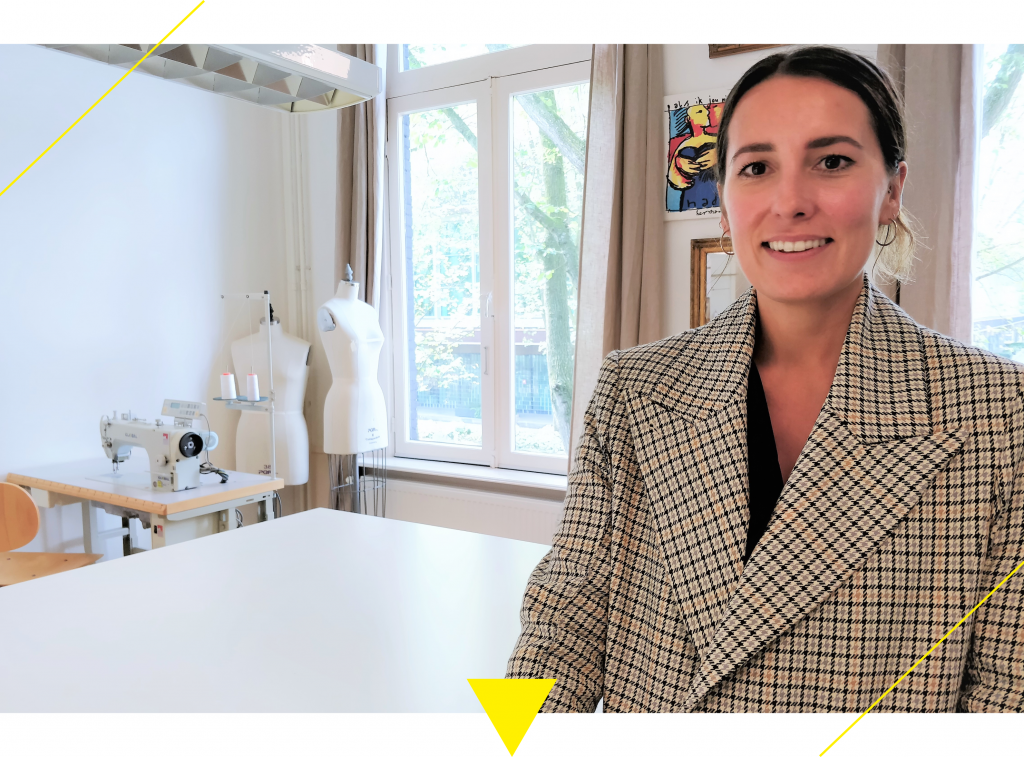 Do you know that each dress, pair of shoes, bathing suit or bracelet you bought has been selected with great care among thousands of alternative pieces? And do you know who the person is who decides that this season's colour trend is red or green?
The fashion chain is very long and complex, but there is an expert who selects the products that stores sell: the fashion buyer. Buyers are not only purchasing agents, but also analysers, negotiators and deal-makers. They research, evaluate and buy products for companies to either resell to customers or use in their everyday operations.
Buyers occupy a specific key role in the fashion industry: they are the people who determine which products reach store shelves, appear in catalogues and online. They do the footwork, the research and make the deals to buy large quantities of products for their companies, who then sell them to customers, or use them to create new materials that they then sell to customers. Undoubtedly, the fashion buyer needs to know how the market and the selling process work, and always stay up-to-date on what it is happening in their specific sector. To do this, they constantly visit expos and fairs all over the world to understand the "moods" and forecast the next trends.
This academic year our teaching staff includes a 10-year experienced buyer, Gina Shanks, who will reveal the secrets of being a successful buyer during our next Meetup on Tuesday, October 3 at 6:30 pm. "The buyer is not a professional role exclusive for the fashion industry, of course, but it is an essential figure for each kind of market, from electronics to food, from toys to furniture", Gina explains. "During the Meetup, I will speak about a buyer's day-to-day tasks and the personal skills one needs to have to be a great buyer".
The Meetup is free and everyone is invited! You can find more details and confirm your participation here.

September 2017
Our international lecturers have a special message to send out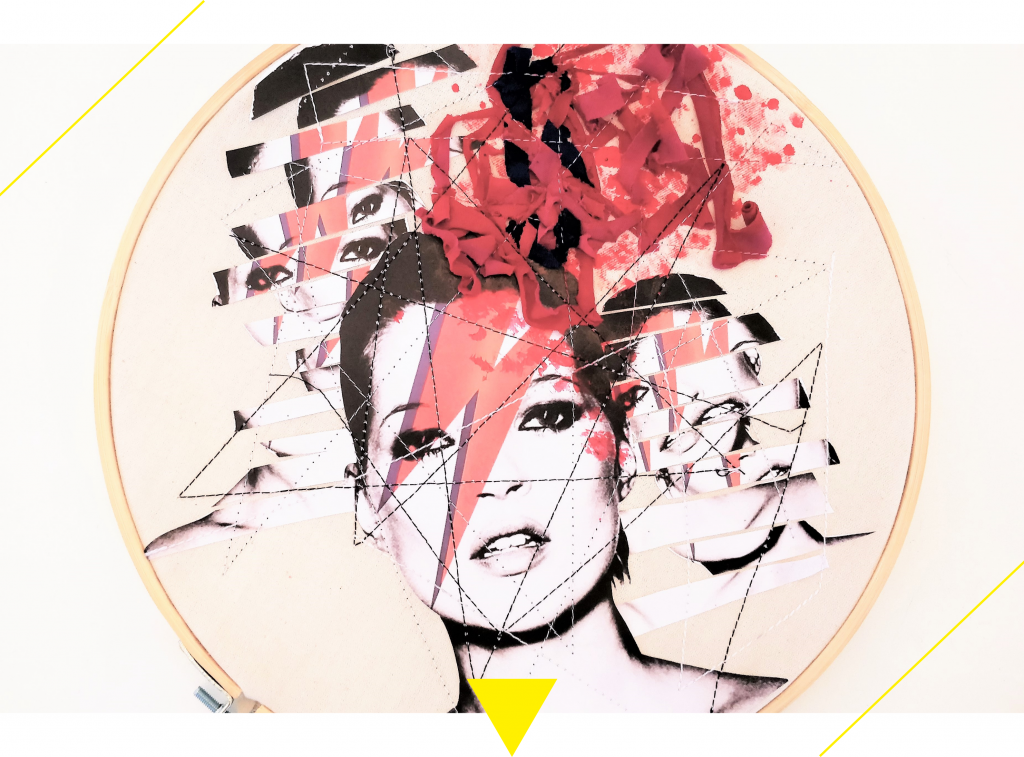 And so, the academic year 2017-2018 has started. The induction week was a big success and the students were involved in several activities: they had a tour around Amsterdam and its museums, they created decorative embroidery hoops on the theme "what does fashion mean to you?" and finally developed a critical analysis based on the exhibitions visited. Through the induction week, we wanted the students to get to know each other and feel at home from the very beginning, while we aimed to help the 2nd and 3rd year students to settle down after summer holidays.
"I immediately felt like home", 1st year student Phillip Roessen says. "The induction week was such a warm and welcoming experience!", 1st year student Frederique Hofman adds. "Not only did we get to know Amsterdam, but also bond with everyone from the other classes". After one week, we can then say: mission accomplished!
On Monday, courses started and students are livening up our new boutique academy. We love seeing them working around the four floors of our elegant townhouse in Amsterdam's city centre. To celebrate this new chapter, we asked some of our lecturers to send a message to the students, which you can read in the image below.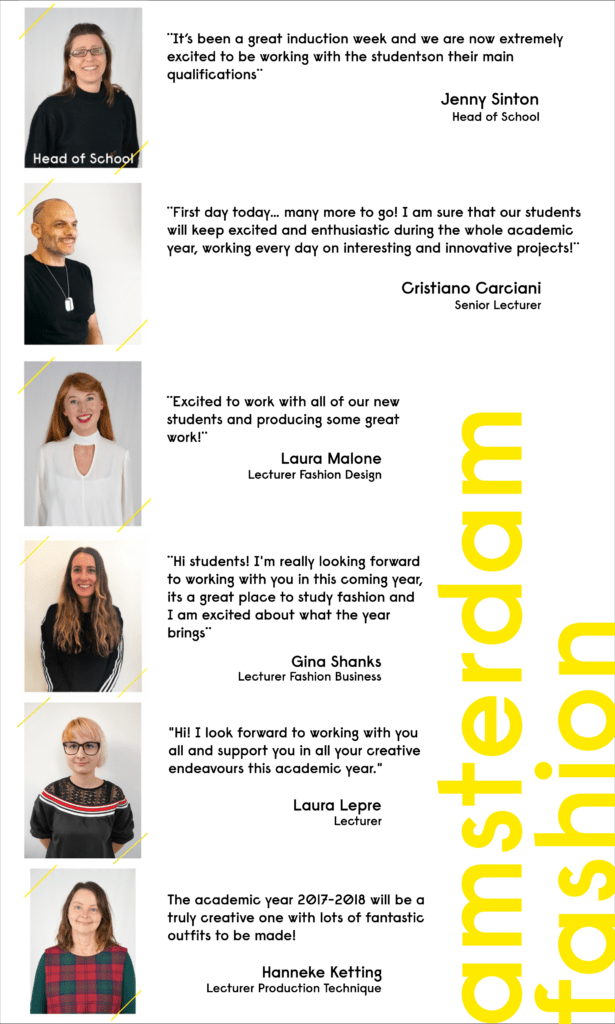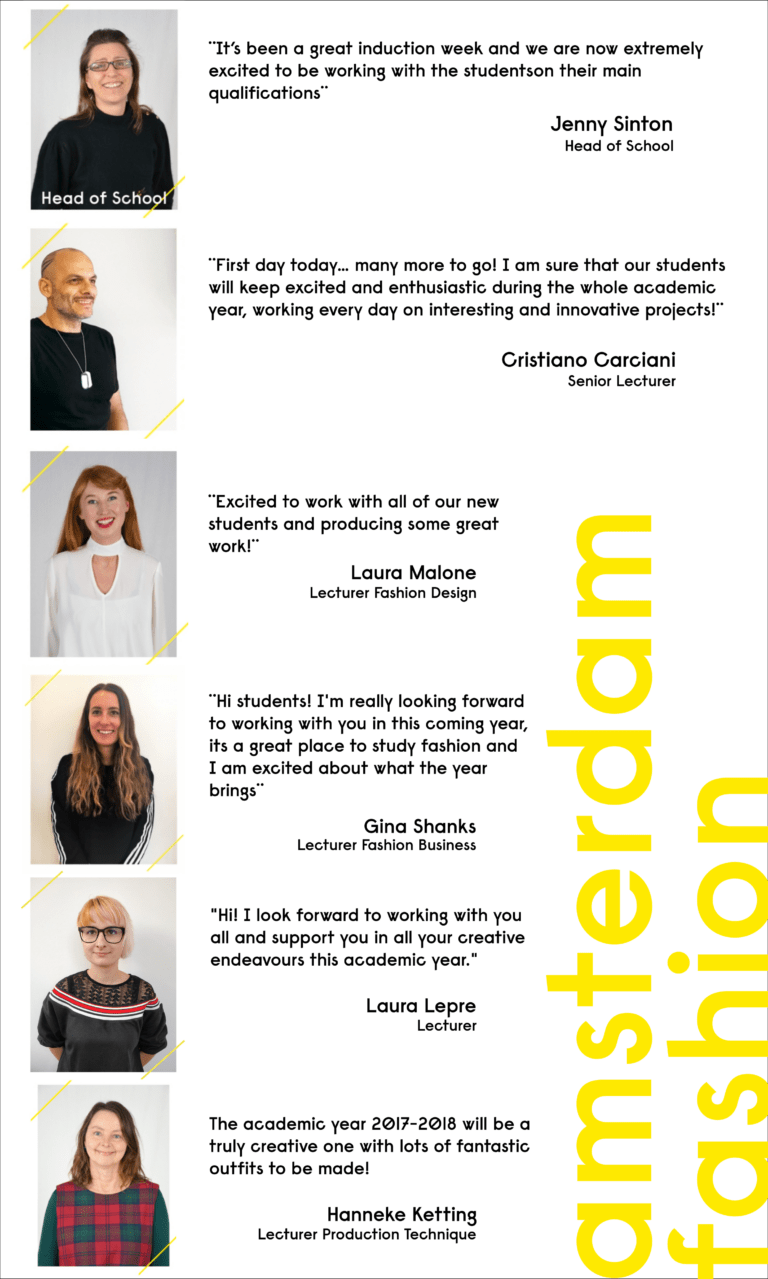 This year, our lecturers team has some new entries with people who will bring to our international fashion academy more ideas, new points of view and innovative visions. We can't wait to see what fashion business and fashion with textile design students will create under our experienced teachers. Keep following the Amsterdam Fashion Academy on social media and this blog: amazing projects are on the way!

September 2017
European Fashion Market: our speech at the African Fashion Designers Expo 2017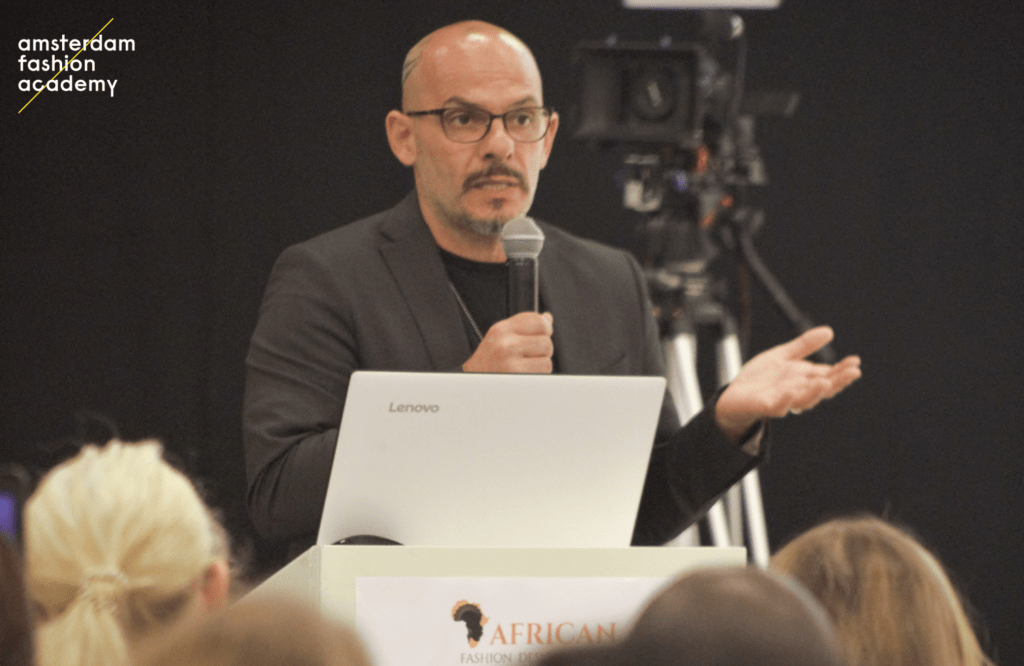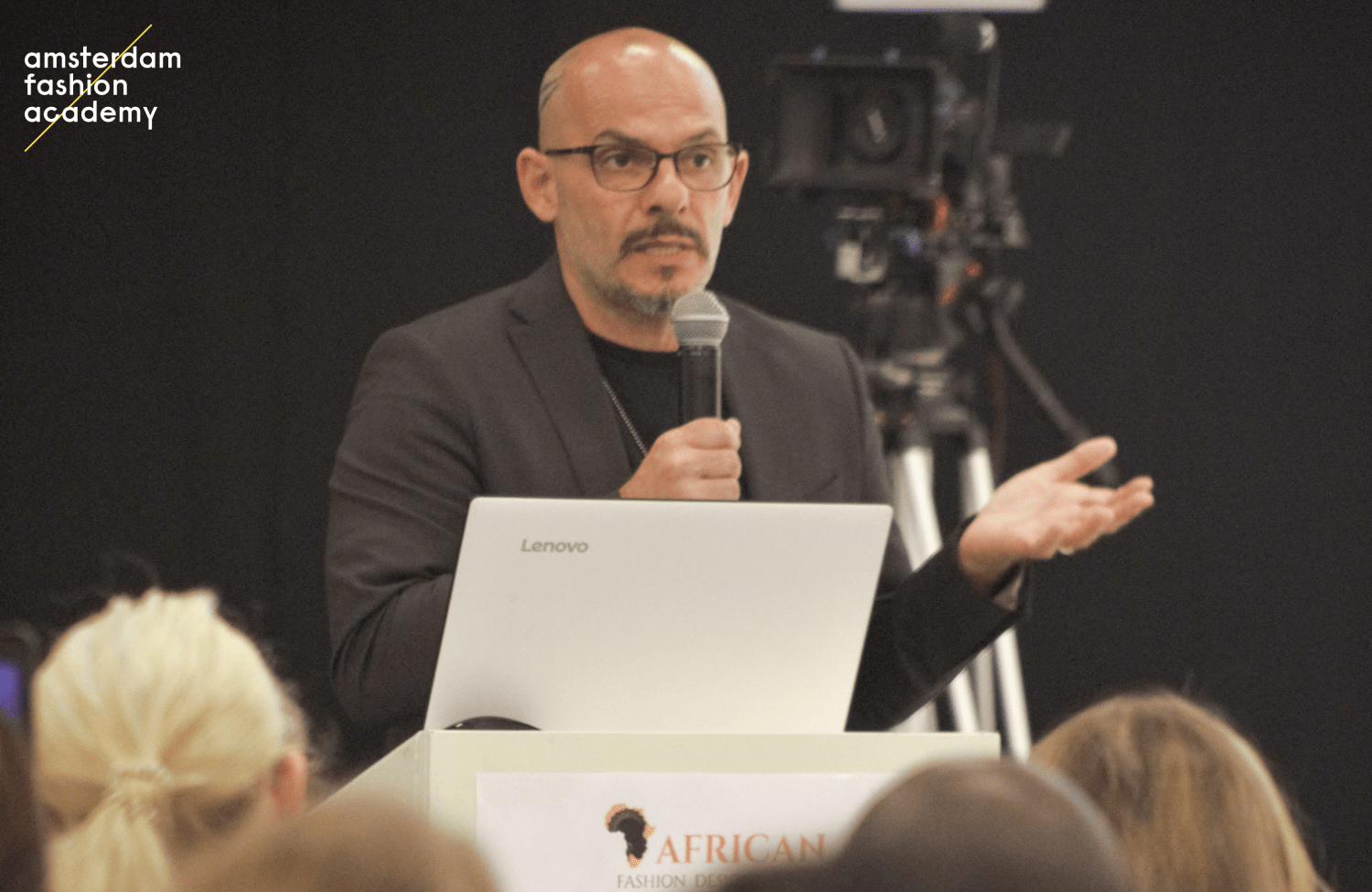 It was a big honour for us to be invited at the African Fashion Designers Expo 2017, which has been celebrated on Monday, 28th of August, at the World Fashion Centre. Our new Senior Lecturer, Cristiano Carciani, gave a speech about the European fashion market, in front of professionals of the fashion industry from Nigeria, Ghana and other African countries.
To understand the actual European fashion market, Cristiano made an overview of the fashion design history from 1858, when Charles Frederick Worth begun designing complete collections for his clients and sawing his personal labels on garments he created.
Q. Cristiano, can you tell us a bit of the European fashion design history?
From 1860 to 1960, haute couture's designers were from Western Europe, specifically from Italy and France: Paul Poiret, Chanel, Elsa Schiapparelli, Salvatore Ferragamo, Christian Dior, Yves Saint Laurent, Roberto Capucci, Valentino, and so on. One hundred year of haute couture: a combination of fine materials, interesting silhouettes and … artisanship.
Q. What happened after the 1960s?
During the 1970s, fashion designers started to experiment with materials and techniques. Let's think about Paco Rabanne and his clothes made with metals and crafted with hammers and pliers. Then, in the 1980s, catwalks saw the arrival of the prêt-à-porter (or ready-to-wear), a new sector of the fashion industry, in which North American (Calvin Klein, Ralph Lauren, Betsey Johnson) and Japanese (Issey Miyake, Yohji Yamamoto) designers occupied an important portion of the market. These are the times of mass production, and ten years later, of fast fashion with H&M and Zara. During the 1990s, technology and innovation started to be integrated with fashion design and the main exponent was, certainly, Hussein Chalayan, who created foldable dresses and motor-powered skirts.
Q. What about the new millennium?
Today, the fashion industry is composed of three sectors: haute couture, prêt-à-porter, fast fashion. In haute couture, Middle and Northern European designers are gaining great value. For example, Dutch fashion designers like Iris van Herpen and Viktor & Rolf. While fast fashion is being populated by numerous commercial brands, many Eastern European designers are "conquering" prêt-à-porter world: Ksenia Schnaider from Ukraine, Anton Belinskiy from Ukraine, Situationist from Georgia, Misbhv from Poland. These fashion brands have strong identities, historical and folk references that are new and exotic to Western consumers. Also, since the explosion of internet, prêt-à-porter is also been populated by a lot of independent designers.
Q. What can you tell us about independent brands?
Independent brands are businesses that are owned, run or managed by the designers or their families. They have a fair and transparent supply chain, and no sweatshops. Sustainability is their most important value: they don't use fur or exotic skins, their products are chemicals-free and have natural or organic ingredients. In addition, they produce limited editions of products, which are made to last and to be worn season after season. In general, independent brands focus more on quality than on trends.
Q. What did you suggest to the fashion designers at the African Fashion Designers Expo 2017?
I think they should follow the example of the independent brands that make of sustainability and transparency their key strength and that produce high-quality products, in limited quantities. They should also focus their attention on the e-commerce and social media channels to reach the global market.

August 2017
FASHION STYLING MEET UP: create a story through clothing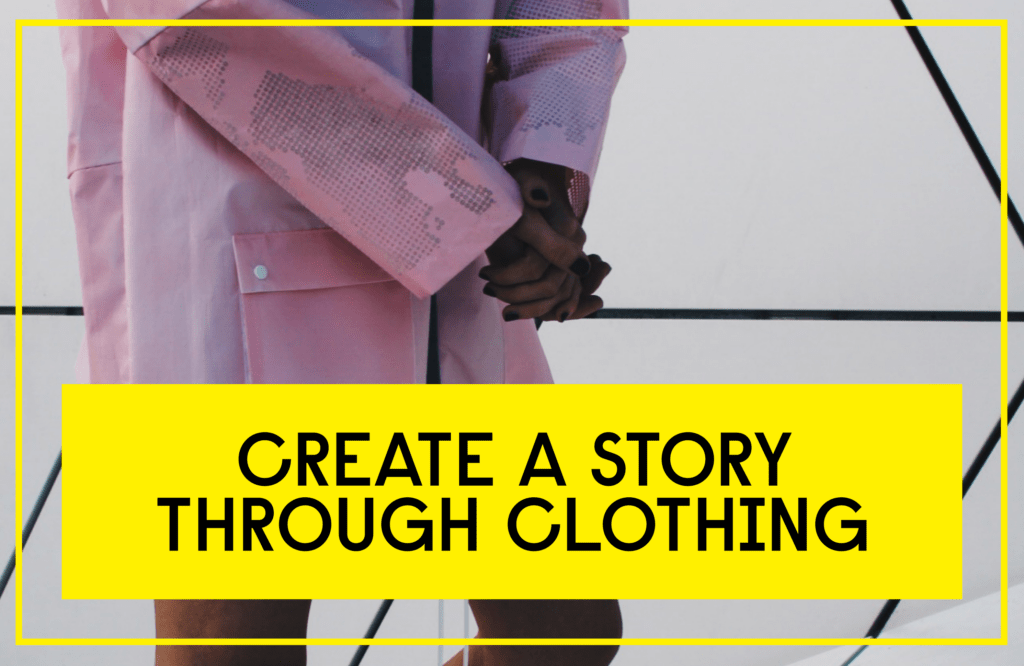 Fashion Styling Meet Up & Workshop: September 6, 2017 at 6:30pm
It's the new academic year and even more exciting we are now in our beautiful new boutique building at Oosteinde 1, in the city centre. So to celebrate the start of the academic year, we would like to ask all our fashion community to join us for a creative storytelling fashion styling meet up.
Do you get inspired by those beautiful editorial fashion magazine images and think "I'd like to be able to create a story through clothing"? Well, why not join our fashion styling meet up on Wednesday, 6th of September, at 6:30pm and learn something about storytelling through clothes and actually create your own visual story, with the help of our experienced teaching staff? It's going to be a creative evening full of fun, experimentation and visual story telling. Experience is no required!

August 2017
Our Communications Officer tells us why you should study fashion in Amsterdam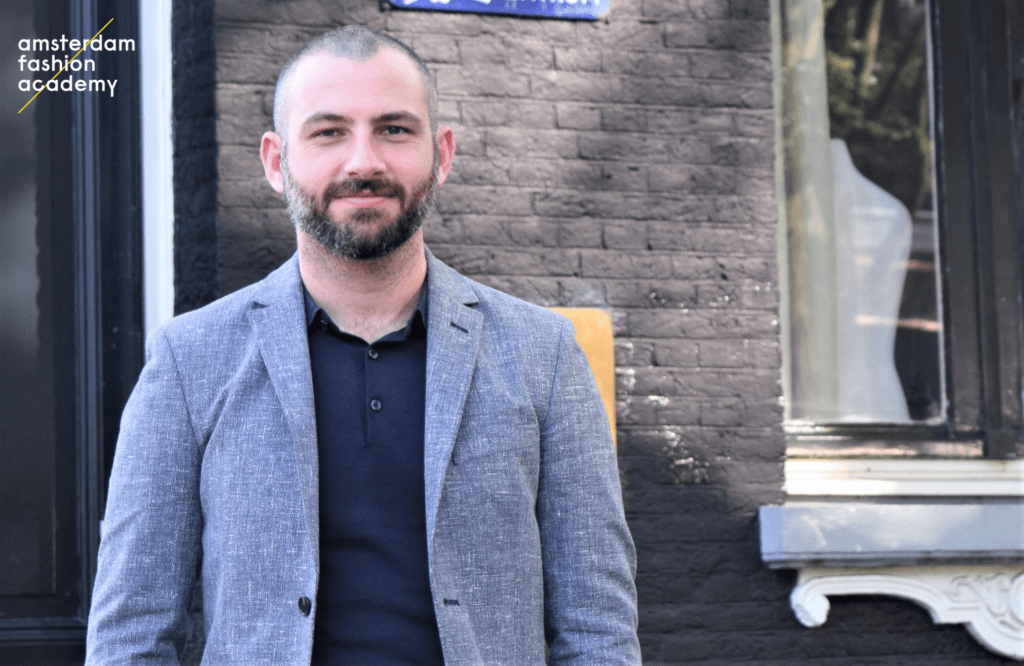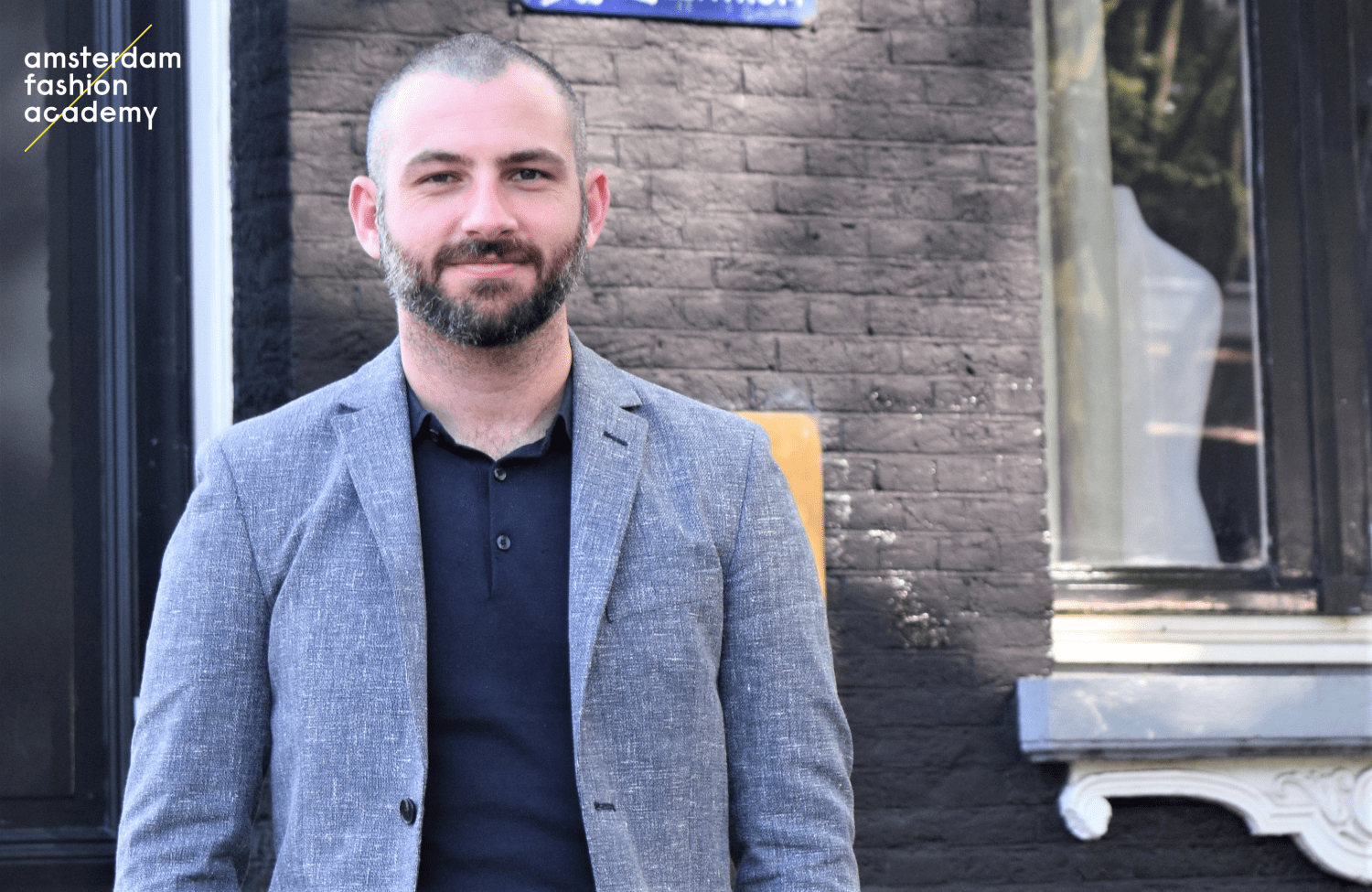 The new academic year is about to start and, as you probably already know, we have moved in an elegant townhouse in the city centre of Amsterdam. And as the Amsterdam Fashion Academy is growing, we are also improving our team with a Communications Officer. He is Luca Bagnaschino and here is an interview we realized with him. He told us why the new generation should study fashion in Amsterdam.
Hello, Luca. Can you introduce yourself, please?
Hello, my name is Luca Bagnaschino. I come from a little town in North-West Italy close to Genoa. I have a Bachelor Degree in Communications from the University of Genoa and a Master's Degree in English as Second Language from Turabo University.
Which is your professional experience?
I have eight years of experience in social media management, public and media relations. In 2009, I joined a non-profit association in Genoa that works in spreading European Union's values across the community. I mostly dealt with organizing events and with coordinating projects commissioned by the European Commission. Then I worked in a communication agency in Milan where I managed media relations for several companies. At the end of 2012 I moved to Puerto Rico, USA, to study a Master's Degree in English as Second Language and working as Social Media Manager for Turabo University's schools. I enjoyed managing the social media channels of its School of Design and Architecture and creating content about Fashion Design, Graphic Design or Interior Design.
What will you do at the Amsterdam Fashion Academy?
I will work as Communications Officer. That means that I will manage Amsterdam Fashion Academy's social media, update blog, organise meetups, manage communications with our community, people who want to study fashion in Amsterdam and, of course, the students. It's a job that will not only allow me to improve my skills, but also to explore new sides of communication. Especially, I cannot wait to meet the students, see their creativity and their creations!
What do you think about Amsterdam?
Amsterdam is an amazing city. The architecture is magnificent, unique. I moved here few days ago and still have a lot to explore, but I already love the place. Every canal, every bridge, every park is so beautiful that let me speechless. Furthermore, living in Amsterdam is like to be at the centre of Europe and cities like London, Paris or Brussels can be reached easily. Let's not forget that outside the city there is plenty of lovely towns to visit. Not to mention the countless cultural events, an essential source of inspiration for our students. Furthermore, Amsterdam is an avant-garde city in many fields, especially in fashion. For examplem Iris van Herpen, today's most innovative fashion designer, is Dutch! Choosing to study fashion in Amsterdam would be the perfect opportunity for the new generation and the Amsterdam Fashion Academy is the ideal place to study for its university awarded (honours) fashion bachelor degree program. It's more than a regular school, it's a boutique academy.

August 2017
We have moved!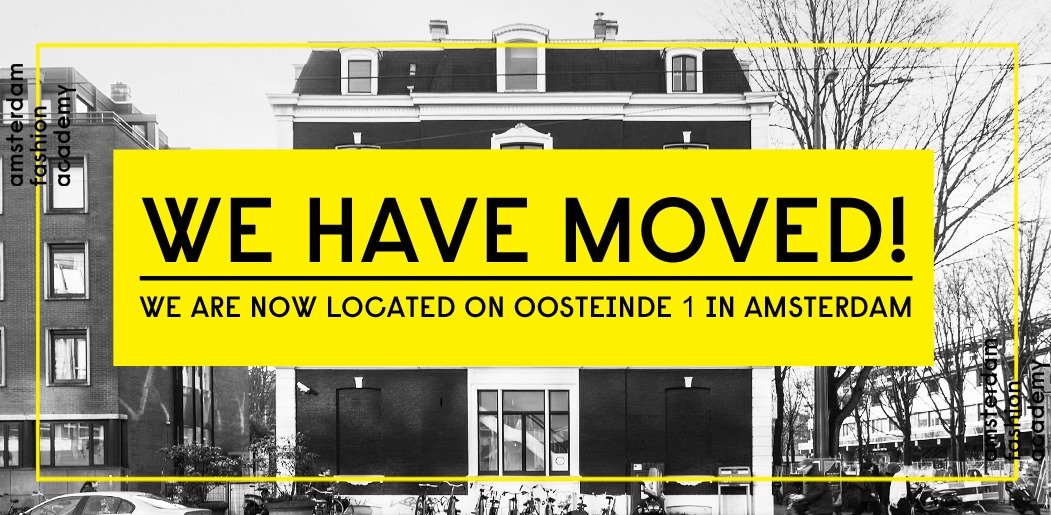 We have moved! Today is the day! We are moving! We are now located at Oosteinde 1 in Amsterdam. We are grateful for our time at the Banstraat, but it's time for a new chapter and a new school year!
New address: Oosteinde 1 Amsterdam, Netherlands 1017 WT

July 2017
And the winner for our Wild Card is…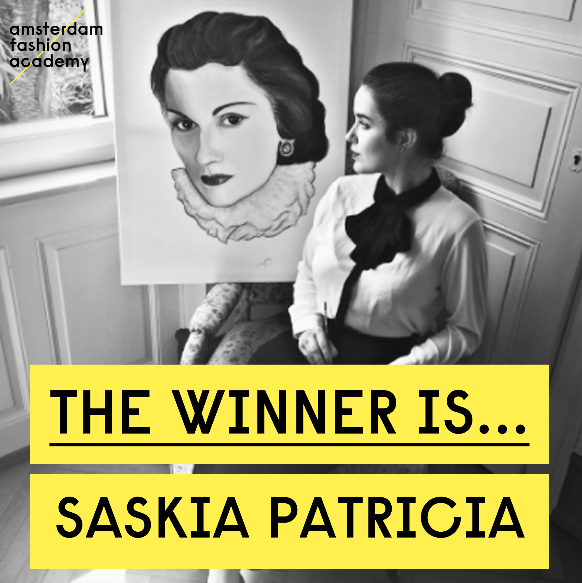 We have a winner! We were very amazed by the image posted by Saskia! A portrait, painted by herself, of her and her favorite designer La Mademoiselle Gabrielle! We love her use of creativity and innovative thinking and therefore she will join the summer course Fashion Styling for free! Congratulations and we are looking forward to welcoming you on Monday the 31st of July!
Thank you all to those who participated!

July 2017
WIN a styling summer course!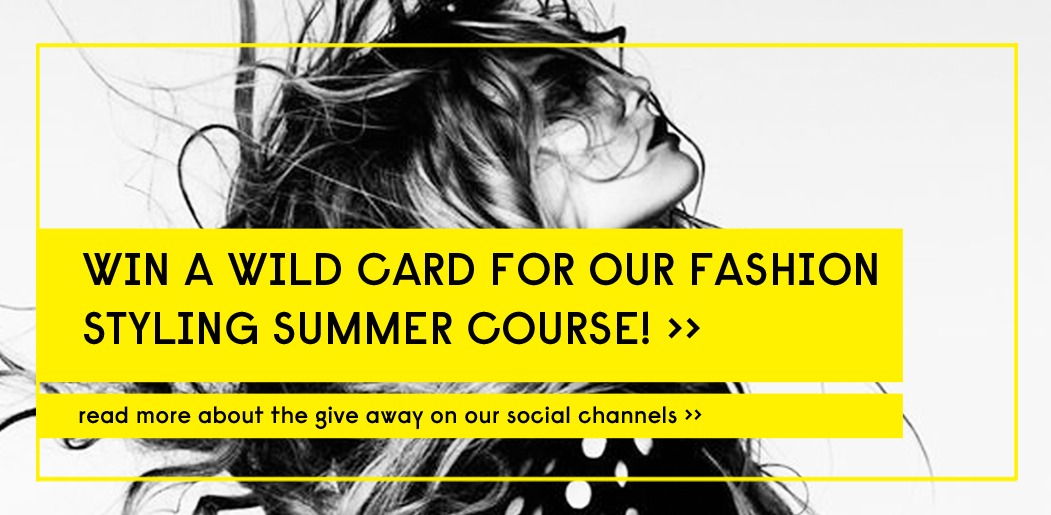 Do you want to experience how colour, clothing and accessories create style? Then this Fashion Styling Summer Course is for you! It is a one week course starting from Monday the 31st of July until Friday the 4th of August, from 10 a.m. till 4 p.m. – with a worth € 549 – for free!
This is truly a once-in-a-lifetime opportunity to unravel the mystique of fashion, style and sophistication. So make the most of this chance to enrich your life and elevate your knowledge and creativity to the next level!
WHAT YOU NEED TO DO:
Be creative and inspired. Every fashionista has a favourite designer or brand, so we are sure you do too! We are really curious to find out who or what this is and that's why we are asking you to take a selfie together with your all-time favourite. Now you may think that's just about impossible… but this is where ingenuity and creativity come in!
We don't expect you to go and knock on their front door, but rather think of a magazine with an interview of your favourite designer, maybe you have a great garment or accessory of your favourite designer or brand, or how about a brand store shop facade. It only takes a moment to take a selfie, one which could change your life for ever!
1: Take a selfie together with your all-time favourite designer or brand and post on Instagram
2: Tag yourself
3: Tag your favourite designer or brand
4: Tag #amsterdamfashionacademy
So, be original and creative! We will be choosing the most innovative, creative selfie on Tuesday 25 July and will announce the winner via our newsletter, Facebook and Instagram.
The winner will get a place at our highly-esteemed summer course: Fashion Styling from Monday the 31st of July till the 4th of August 2017.
Good luck!

July 2017
Graduate Student – Shelley
Our only design student for the graduate class of 2017, portrayed her created designs into an own movie! Take a look!
Name: Shelley Nathoenie
Course: Fashion Design BA (Hons)
Age: 20
Final Project: "For my Final Major Project, I have created a collection called the Sunset Cocktail Lounge. The theme that I explored is 'one's past', and the manner in which it shapes each and every unique individual. Whether it is the stories from a parent, grandparent, or events in one's own past, it all comes down to emotions and ideology that shape each and every one of us in a different way. Although we are all very different and unique, there are certain elements that remain the same in all of us, due to age and experience."

June 2017
Happy Internships!

We have received so much feedback and stories from our second year students that have been off on their internships for a few months now! Here is Melissa's story!
Melissa Roksnoer went to travel all the way to Spain Barcelona to complete her internship for Production Media Network S.L within the Model Management group. She would take tasks on like working under the marketing and management department in particular within the e-commerce environment.
Before she started she said, "I am very excited to start my internship; I think it is a great way to enter the industry in a practical way."
Now almost 5 months later, Melissa has learned all that she wanted and is very happy to have had this experience! "During this internship, I have been able to experience and gain on practical work. I have really enjoyed working on media production as well as with models (photoshoots, castings..) Throughout it, I have got to know amazing people who knew a lot about the industry and they have helped me a lot!"
We can't wait to see everyone back after the summer and hear more of your success stories!

June 2017
MEGA Meet – up! Wednesday 5th of July 6.30 pm till 9.00 pm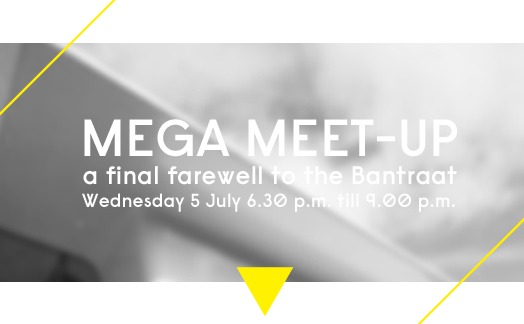 We have something to celebrate and we want to do that with you!
Wednesday the 5th of July from 6.30 pm till 9 pm.
Our fashion community already has more than 1,500 members, a fantastic and friendly group of fashion aficionados. We have met many of you but sadly have not yet been able to meet or welcome all of you at our academy. As mentioned, we have something special to celebrate, we are moving to new premises on August 1 st, an elegant townhouse in the city center.
But before we say our last farewell to the Banstraat we want to organize one more mega- MEETUP. And we hope to welcome all of you.
Looking for inspiration, styling advice or clever dressing tips? Or do you want to take your creative skills to the next level?
Then do come along on Wednesday the 5th of July from 6.30 pm till 9.00 pm. It promises to be an exciting evening with workshops Illustration techniques and 'make your own fashion accessories', professional styling advice, snacks and drinks. The perfect occasion to visit our academy, get to know us better and get to meet others. Everyone is welcome and entrance is free! See you then!

June 2017
Extra open-evening for the undecided – 22nd of June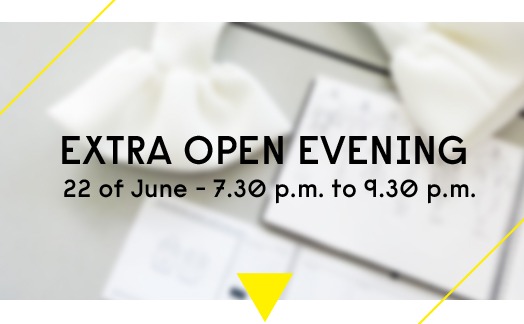 Not only for our students is this a tense and exciting time but also for secondary school pupils who are currently in the middle of their exams. We understand more than most that you are now completely focused on your exams and there is no room in your thoughts for decisions about the future. However, as soon as the exam pressure has evaporated in the summer sun, you will still be faced with making a choice and to help you do this we will be opening our academy again in June, so you still have a chance to come and visit us and talk to us about the opportunities we offer. Please know that you are very welcome on Thursday evening 22nd of June from 7.30 to 9.30 p.m. Please do not hesitate to send us an e-mail if you want to come along!

May 2017
Make the 24th of May a Red-Letter Day!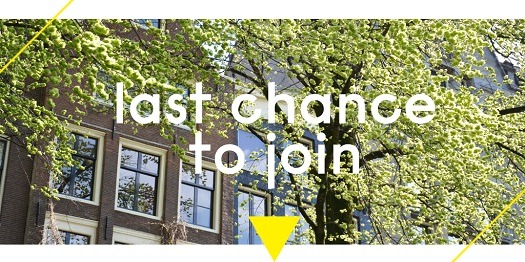 Every now and again an opportunity comes along that you would be mad to ignore. Wednesday, May 24th 2017 is certainly such a day…
Would you like to study at our international boutique academy in Amsterdam, the Netherlands? Our last interview day for foundation and bachelor courses starting in September is on Wednesday, May 24th, and it would be fantastic if you were there. So please take that step and contact us, even if you are not sure but have a couple of questions. Read more about the admission procedure.
You are always most welcome to call us at +31 (0)20-4896692 or email us!

May 2017
We are on the move!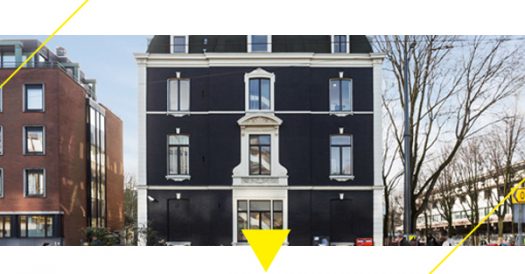 Four years ago we opened our academy doors in the Banstraat in Amsterdam South to welcome our first students. With great pride and pleasure, we have since been able to welcome, get to know and help hundreds of fashion students, professionals and interested people. It is this friendly and relaxed atmosphere that has made us who we are today: an international boutique academy, personal, unique, high-end, sophisticated and charming. With lots of attention for the individual. Small-scale yet capable of great things. Nothing in life stands still and we are no exception. It is now time for our next step, a step forwards. In the summer we are moving house to a splendid, majestic building in the centre of Amsterdam, truly fitting for our academy. With lots of natural light, high windows and ceilings and beautiful ornaments, we are very proud that this is going to be our new home!
Our new premises will certainly inspire those who come to study and work there and will certainly add even more colour to our boutique academy. And we are looking forward to welcoming you to our "new home" either as a student attending one of our courses or as a visitor or participant at one of our MEETUP's or FREE FRIDAY activities.
From the 1st of August 2017 you are more than welcome to visit us: Oosteinde 1 in Amsterdam, The Netherlands.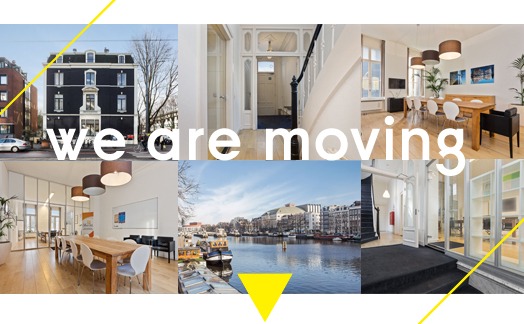 May 2017
Proud of our third-year students!
All of the third years are working very hard to finish off their final projects, seeing as they only have a month left of class! How exciting! In the next few weeks, we would like to introduce some of the students and their projects! This week we will introduce you to Megan and Shelley!

For my Final Major Project, I have created a collection called the Sunset Cocktail Lounge. The theme that I explored is 'one's past', and the manner in which it shapes each and every unique individual. Whether it is the stories from a parent, grandparent, or events in one's own past, it all comes down to emotions and ideology that shape each and every one of us in a different way. Although we are all very different and unique, there are certain elements that remain the same in all of us, due to age and experience. Emotions such as love, hatred, anger, betrayal, forgiving and forgetting, learning, coping, and growing are all experienced for a first time and are all stages in life that one faces and goes through.
The art of life is to get back up on your own two feet and be able to move on in the future, becoming happier and stronger from the experience. I focused the designs on one of my personal memories of travelling to Miami, and noticing the white sand beaches, wide and on-going side walks, the warm ocean breeze on your skin, the palm trees, the Cuban music being danced on and played by locals and street artist, the exotic vibe and the vacation feeling. My collection is based on the overpowering shades of the sand-nudes and the blues and greens of the sea, the fabrics are light and airy, perfect for a vacation."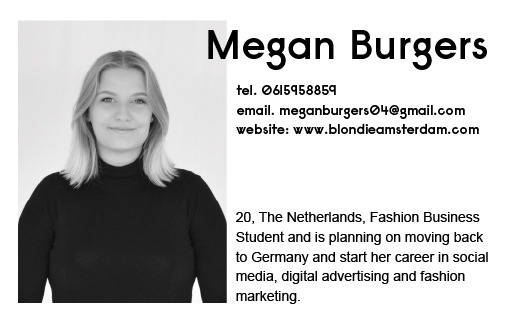 Since the start of the academic year, I knew I wanted to do something that would bring value to me starting my career. I wanted to set out with a project that would make me independent and to have the opportunity to use all the knowledge and skills I have learnedW during my studies and combine this into one final project, to start me on my way towards a new innovative solution to how businesses can work. Therefore my final major project is based on creating a 'how to' agency that focuses on giving master-classes and traineeships, to educate those who either need to update their skills within social media, or who need to develop a clearer understanding and learn how to maximise the use of social media to create brand awareness and content. The company "Intersocial" will be located in Germany but will be looking at growing internationally using technology such as virtual reality, that enable the world to connect with people internationally.
'Intersocial's' vision is to strive to help individuals fall in love with every feature of social media and the digital marketing industry. With classes that are full of group discussion, exercises and live industry, one will learn about the online world, through an offline platforms. With this vision I hope to create a successful business that will help and educate people, just like the Amsterdam Fashion Academy opened my eyes to the industry.

April 2017
FREE FRIDAY – Meetup & Workshops
Friday, April 14th from 3 – 4.30 p.m. Open to all and Free of charge!
Not everyone has the opportunity to take a week off to attend one of our summer courses. With this in mind, we would also like to invite you to come along to our meetup. The theme is creativity and networking, so you can come and talk shop without having to take a day off. We will also be holding two workshops, Fashion Design and Fashion Styling. There will also be a drink and a snack waiting for you. It would be great to see you there. Entrance is free, but please come on time! We look forward to seeing you on Friday, April 14th from 3 – 4.30 p.m.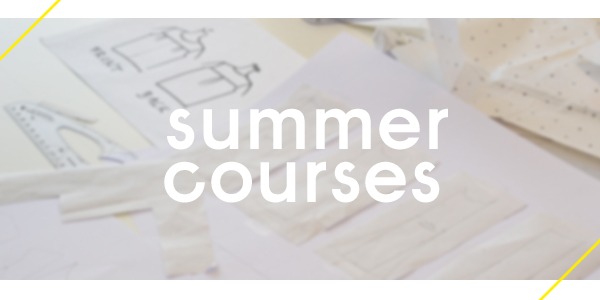 Free your talent and develop your creative potential!
Want to enjoy the vibrant summer life in Amsterdam and immerse yourself in creativity? Then look no further than our summer programme. The beauty of our summer programme is that you can choose what suits you best; you can opt for a one week course but you can also choose to join us at the academy for two, three or even four weeks. The courses have been designed to fit together perfectly. If you would like more of an idea what to expect then have a look at the following programmes: Fashion Design, Fashion Styling, Creative Pattern Cutting and Portfolio Development.

March 2017
Good Luck! Second years are off to their Internships!
Our second years have fledged the nest and are out in the world doing their internships. We are proud that they are able to spend time learning their trade with such big names as Anecdote, Claes Iversen, Asger Juel Larsen and Mason Garments. A great experience that will not only look great on their C.V. but is a big towards their future careers in the fashion industry. We wish them an instructive, inspiring and wonderful time.
Alexandra Hingsen will be moving to the USA, Santa Monica where she will be working with the loungewear brand Lunya within the marketing and ecommerce department.
"I am excited and eager to be a part of the Lunya team also looking to gaining new experience and knowledge within the fashion industry in the United States."
Karien Oude Wolbers is completing her internship at Anecdote, working alongside their marketing department, she has already seen some of her moving image work in the centre of Amsterdam Rembrandtplein on the large screen.
"It's a creative environment, with an amazing team to work with. I get to do a range of different tasks each day from social media to helping them with their campaign work. I have already used a lot of what I have learnt to inform my own project work."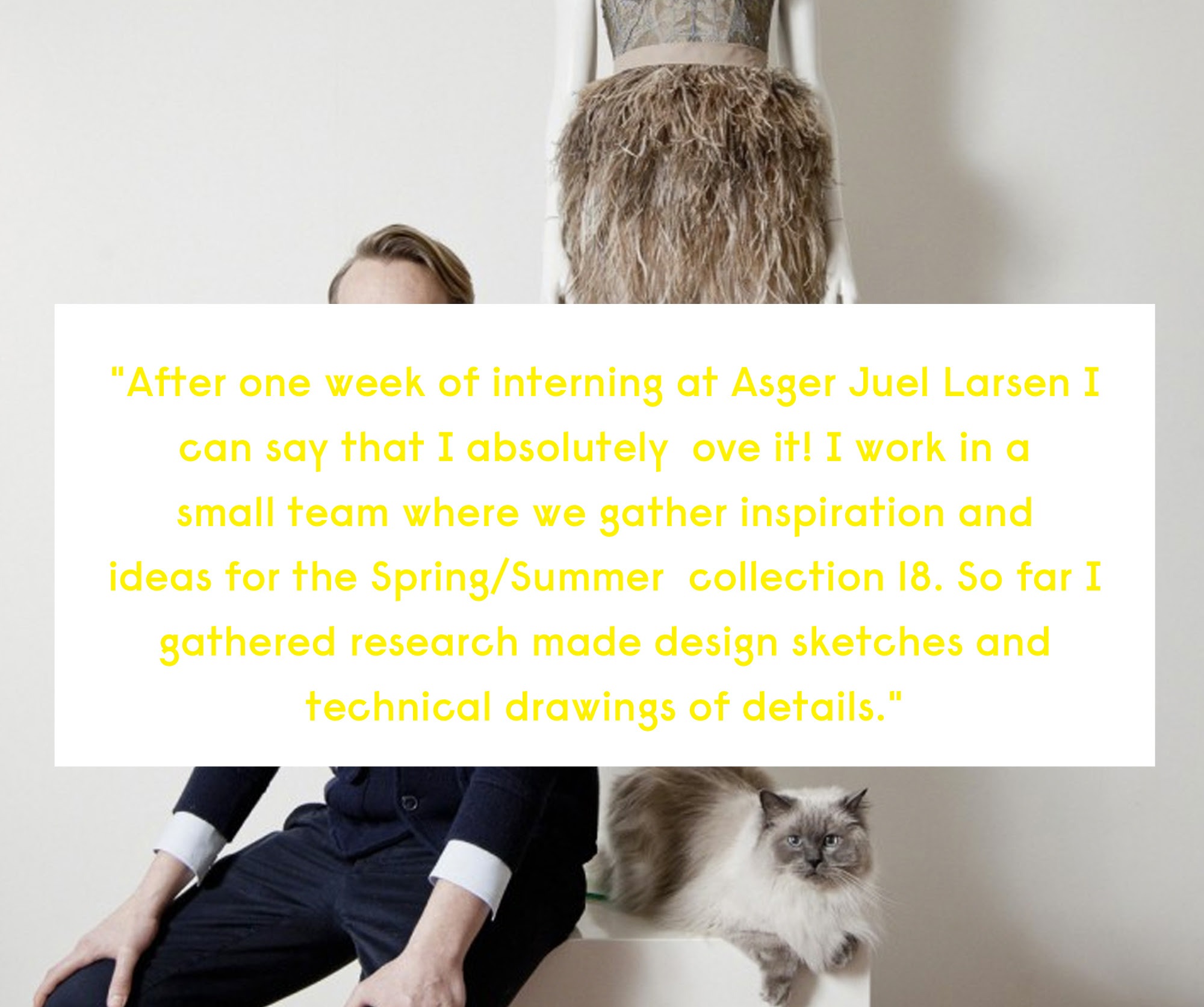 Melissa Roksnoer will be traveling to Spain Barcelona to complete her internship for Production Media Network S.L within the Model Management group, where she will working under the marketing and management department in particular within the ecommerce environment.
"I am doing an internship at a Model Management agency in Barcelona where I will be doing their social media, blog writing and marketing. I am very excited to start my internship; I think it is a great way to enter the industry in a practical way."
Amanda Leimand Michelsen has gone back to her routes and will be from the end of March working with Danish womenswear designer Claes Iversen.  She will be working alongside the design team in the development of technical trials, helping with the production fitting with the RTW and making adaptions, assisting on the photoshoots and shows.
"I am very excited to get started and to try out some of the skills I have already learnt from the academy and delighted to be part of a team that creates products for the industry"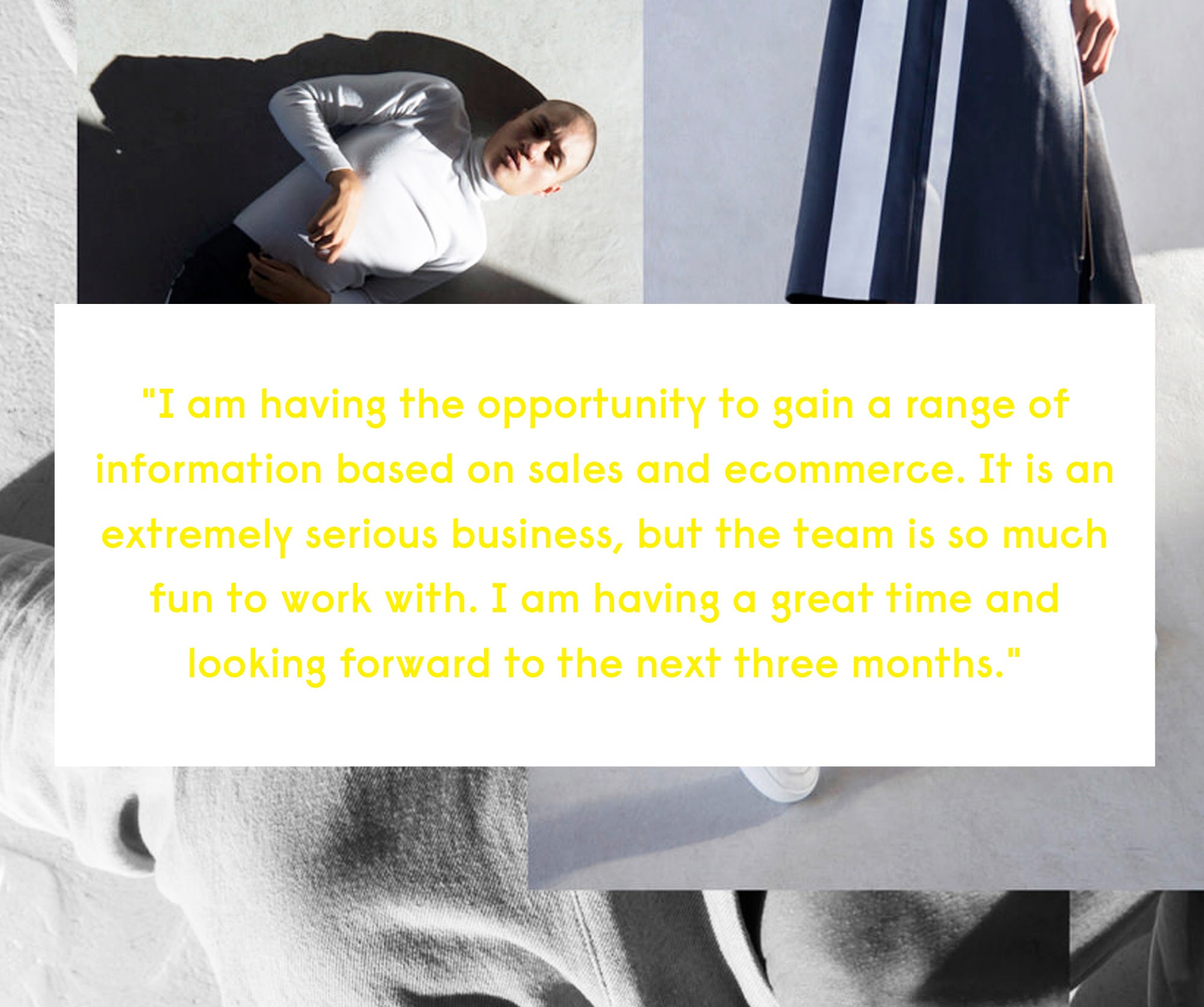 Linda Dittrich is leaving the Netherlands to complete her internship in Copenhagen with menswear designer Asger Juel Larsen.  She will be working alongside the design department helping to develop and support the current collection.
"After one week of interning at Asger Juel Larsen I can say that I absolutely love it! I work in a small team where we gather inspiration and ideas for the Spring/Summer collection 18. So far I gathered research, made design sketches and technical drawings of details."
Valerie Vastesaeger is working in Belgium, Antwerp with the brand Essentiel and is completing an internship as retail project coordinator, part of her role is stock analysis, maintaining brand identity within the store and she is learning new industry software which includes; avision.
"I am very happy that I can be part of a friendly and motivated team. I am also looking forward to the next few months were I am able to also bring insights into the brand alongside learning their own processes."

March 2017
Free Friday – Fashion Forecasting – Afternoon Session
Friday March 24 – 1.30 p.m. – 2.45 p.m.
We invites you to join us for an informal get-together and to participate in a fascinating lecture about Fashion Trend Forecasting. This afternoon session will start at 1.30 pm and end at 2.45 p.m. The lecture will last around 50 minutes, leaving plenty of time for questions. It is open to all and for free. You don't need any special knowledge, other than an interest in fashion, of course.
It is advisable to send an email as soon as you can in order to be assured of a place.

March 2017
What good is creativity without know-how?
When it comes to fashion design you may tend to think about the creative aspects of designing. Trend boards, sketches, creating colour cards, draping, you name it. But who is going to make these stunning designs? Before you can produce anything, someone will first have to come up with the patterns and cut them. This is when the more technical side of designing comes into play. Pattern drawing is a much sought after skill in the fashion industry, yet there are still very few people who have truly mastered this profession.
At the academy considerable attention is rightfully paid to pattern design and cutting, in both undergraduate programmes and part-time courses. The part-time Pattern Cutting and Production Techniques course had been barely announced when all available places had already been filled for this year.
First come first served.
Keep an eye on our website because this in demand course will be running again in February 2018. If you can't wait that long, then sign up for the summer course Creative Pattern Cutting. For an entire week you can completely immerse yourself in all the ins-and-outs and skilled techniques involved in pattern drawing. You certainly won't regret it!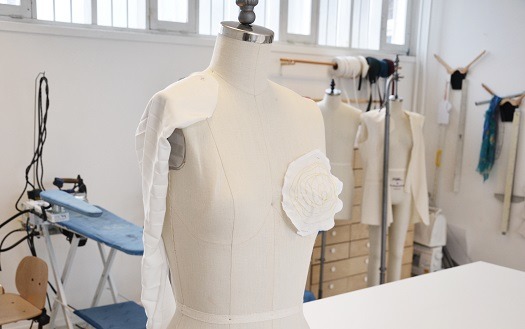 December 2016
A day in the lives of…… The Fashion Design Students
Lets take a look…
The Fashion with Textiles Design university awarded degree programme covers 4 key themes; design, textile, manufacture and business. The course is taught through a series of practical project assignments, with key emphasis on quality of products and innovative design. The practical modules are delivered through a variety of workshops, demonstrations, lectures and seminars, but the most important aspect of this programme is that you become an individual designer. Thanks to our small classes and commitment we can achieve this together by providing each individual student with one to one tuition time every week.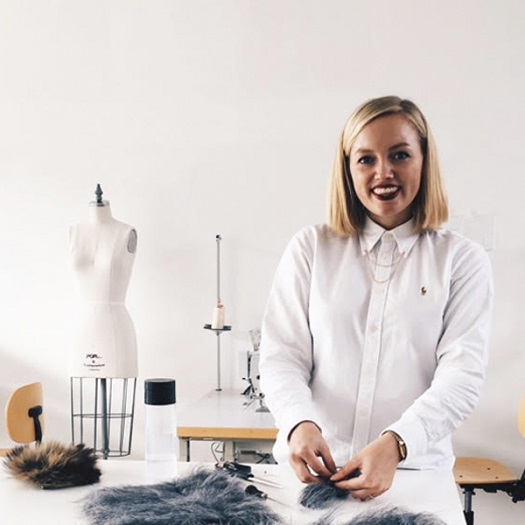 Daily classes that they follow:
Sleep, sketch, eat and create… and repeat! This is the basic routine of the design students. From pattern cutting class to digital sketching, they do it all! Here is a small look into their daily activities:
– Fashion Illustration Techniques and Visual Research
– Introduction to Historical and Cultural Contextual Studies
– Introduction to Design Processes
– Business Studies
– Fashion Realisation Techniques and Processes (including 3D and draping)
– Textiles Realisation Techniques and Processes
After the first year they also focus on:
– Historical and Cultural Contextual Studies
– Industrial Practice in a Global Context
– Fashion and Textiles Design
– Fashion and Textiles Cutting and Construction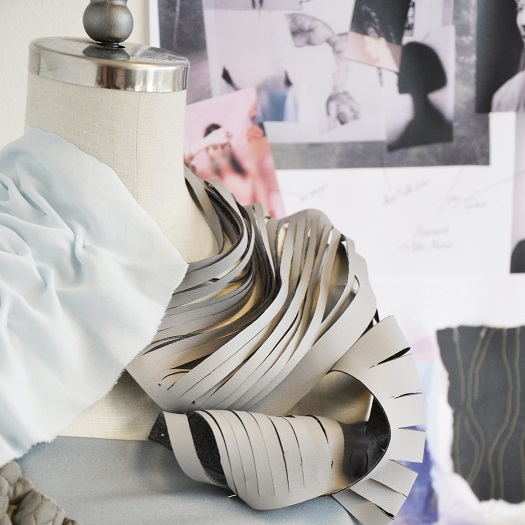 A little insight in what the design students think about their course:
"Inspiration can occur in every given context, and when studying fashion design in the middle of the amazing city of Amsterdam, there is so much to be drawn to. The Amsterdam Fashion Academy allows us to explore our own boundaries within creativity, and our technical skills get improved as well." – Second Year Design Students

Learn more how to apply to the Fashion with Textiles Design (Hons) BA

November 2016
A day in the lives of…. The Fashion Business Students
Daily classes that they follow:
Work, work, work… It never stops! But every student will agree; it's all fun. There is a lot of variety in the Fashion Business world. From styling to the fashion's history; the students learn it all! Here is a small look into their activities: Fashion Visual Research and Presentation, Introduction to Project Management, Introduction to Fashion Styling, International Branding, Fashion Marketing and Promotion and Introduction to Historical and Contextual Studies. After the first year they also focus on: Historical and Contextual Studies, Fashion Branding, Industrial Practice in a Global Context, Fashion Styling, Fashion Communications and Fashion Forecasting.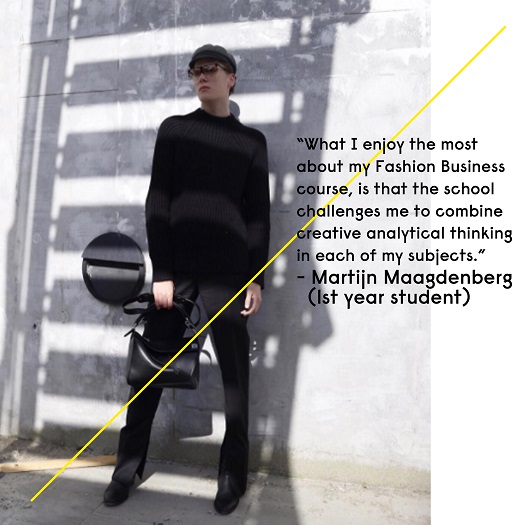 Great RESULTS!
As a Fashion Business student, a day consists of researching, writing reports, watching documentaries… but there is also lots of creative activities! Like creating mood boards, digital and live sketchbooks, create hand drawn logos and sketches… It's not just writing and learning as most might think! As you may have been seeing on our social media channels, there have been some amazing work produced! Our students are dedicated, inspirational, excited, creative, different and we couldn't be more happy with their work! Well done!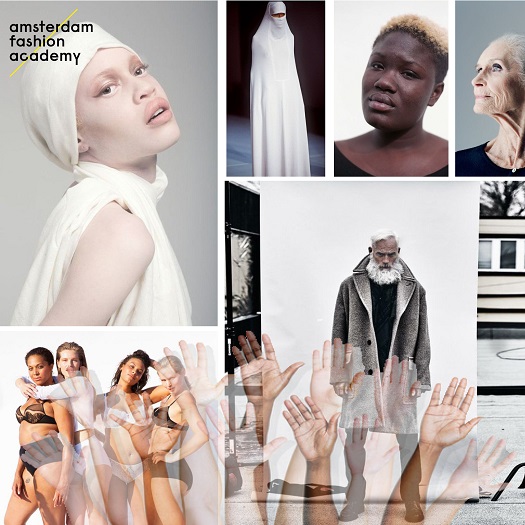 November 2016
It's good to keep in touch and even better to share good news!
Even though our graduates have now fledged and headed out into the world, we still like to keep a concerned eye on them. Like family members leaving home, we like to keep in touch and hear how they are getting on. Well, we've just received some super news which makes us feel proud and eager to share this with you.
Sophie van Broeckhuysen graduated in Fashion Business (Hons) BA
Newly graduated this summer and she has already landed her dream job! Sophie graduated in Fashion Business and had her sights set on Sydney. She moved there just a few months ago and has already been working for some time now as assistant manager with Australian brand Decjuba. And she is having the time of her life.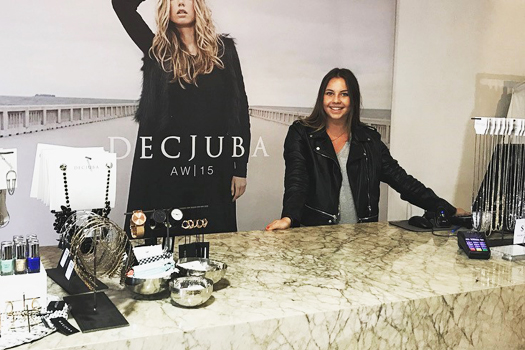 "After leaving the academy I felt very lost and didn't know what my next step should be, then I made the decision to move across the world on my own, back to my roots. I felt I had completed my stay in Amsterdam and it was time for a new adventure. My name is Sophie, I'm 21 years old with a Bachelor's in Fashion Business (Hons). Now 5 months after graduating, I am assistant manager with Australian brand, Decjuba. This a national brand, with stores nationwide, all over Australia and New Zealand. It's effortless and edgy fashion which empowers women with confidence. The academy really prepped me well for everything I've come across in this job, from styling to branding and even customer service, I learnt it all in Amsterdam, from my friends and amazing lectures. I'm really excited about the future, I'm eager for the next challenge and what's waiting around the corner. I felt I made the right decision to make this move and follow my gut feeling, and the academy gave me that push and drive as I became obsessed with fashion and making it my priority." Sophie van Broeckhuysen.
Alicia Nastenko, graduated in Fashion with Textiles Design (Hons) BA
She had not even graduated when she was already invited to design a collection for the staff of the Andaz hotel in Amsterdam . A five star art, design and luxury hotel in the heart of Amsterdam. An entirely new line in the style of the Golden Age and Delft Blue to match the decor of this sophisticated hotel. There is a promising future ahead for Alicia!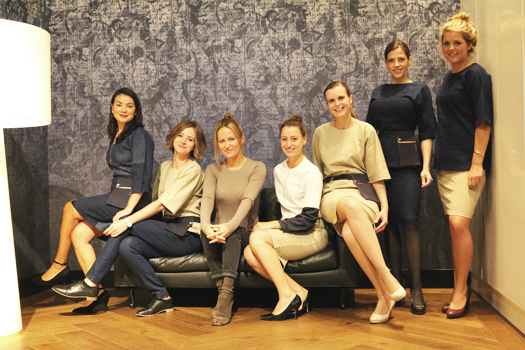 "Naturally, as a designer, I wanted to transfer the "personal style" of Andaz Amsterdam into the future garments of its employees. My inspiration came from the visual reference – the interior, but also from the message the hotel delivers to the world. This place respects the past, embraces the future and is inspired by what is happening around it." Alicia Nastenko
Britt Mansveld, graduated in Fashion Business (Hons) BA
Britt had been bitten by the study bug and wanted to carry on studying. After much deliberation, she chose the Master in Fashion Marketing and Communication at the University for the Creative Arts in Epsom. And this appears to have been a very good choice!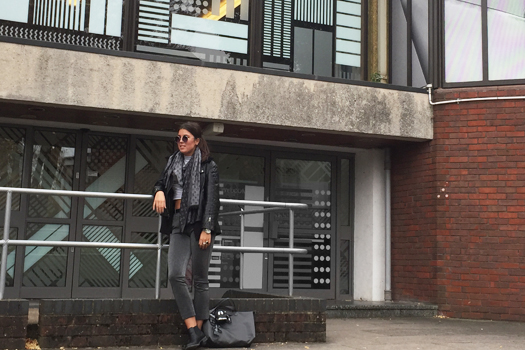 "After graduation last year I decided to move to England to continue studying. I am currently doing my MA in Fashion Marketing and Communication at the University for the Creative Arts in Epsom, and it has been the best decision I could have made! The University has amazing facilities for its students and has an international mind-set due to the large number of international students studying here. Epsom is a small but busy town, and within 40 minutes you are in the centre of London. This gives me the opportunity to travel to London as much as I want, either for school assignments or to explore the city!" Britt Mansveld

October 2016
Open Evening on Thursday the 10th of November 5.30 pm – 8.00 pm short- and part-time courses
We invite you to join us for an informal get-together so you can get to know us, meet others and find out more about and our part-time courses and courses. You are under no obligation except to enjoy yourself!. Our aim is to bring like-minded people together in an inspiring environment and make you aware of who we are and what we do. Everyone who wears clothes is involved with fashion and we want to take you beyond the glamour of the catwalk and help you learn more about fashion in an accessible and fun way. So because of this we would like to invite you all to an evening at the Amsterdam Fashion Academy on Thursday November 10th at 5:30pm – 8.00 pm. We will be presenting two free 45 minute lectures on the topics of the Fashion Branding and Fashion Styling. There will be free drink and nibbles for all who attend and an opportunity to meet and mingle with the academy staff and other likeminded people. So do come along for a look, a chat and some refreshments.

October 2016
It´s never too late to start again! Enrol in January 2017
Every year, many students apply for courses and universities and later change their minds about them. You are not the only one! We are currently receiving many enquiries from students wanting to know if it is possible to stop their current course and enrol at the academy to join one of our courses in January 2017. This is possible, provided certain conditions are met. We will be happy to tell you all you need to know. So don't hesitate, please contact us or visit our open day on Saturday the 5th of November. We look forward to hearing from you and hopefully welcoming you to the academy!

September 2016
Induction week
Hello To A New School Year at the Amsterdam Fashion Academy! Welcome back to our old students and welcome to the new faces. How exciting! Before we start with the new year let me introduce my self; my name is Megan. I will be giving you an inside look into the academy and the students life at university! Want to know more? Then keep reading…
Induction Week!
What a week! Induction week 2016/2017 was a big success and the students worked so hard! From going to museums, to styling assignments and presenting their projects! The 1st years created amazing images, the 2nd years worked on their history of arts and the 3rd years were working on their analytical writing skills! Want a behind the scenes look? Check out the full after movie by clicking below!

August 2016
Welcome to the new academic year 2016-2017!
The coming of a new academic year always gets the adrenaline flowing. Our pursuit of perfection certainly keeps us busy preparing the academy so that returning and new students quickly settle and feel at home (again) at our academy. Ordering museum year cards, assigning lockers, ordering books, planning timetables and the academic calendar and not forgetting writing the welcome letter to students. Paint, brushes, calico, yarn, thread, pins, sketchbooks, everything needs to be restocked. Too many things to mention. The kick-off meeting for the teaching staff is scheduled for Thursday, September 1st, then we are all set to open our again on Monday, September 5th at 10 am.
Stay tuned
We will be giving you an update about the upcoming open days, new part-time and short courses and many of the other activities that are planned for the upcoming year soon!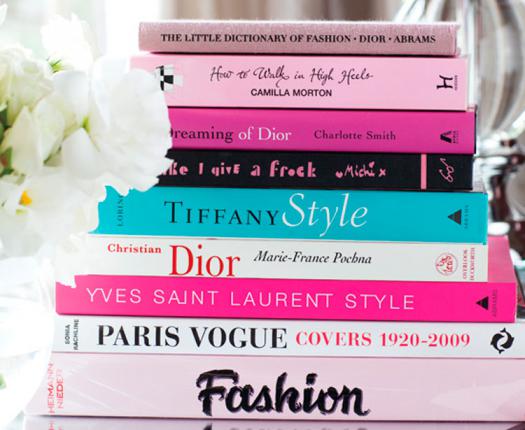 July 2016
Such good news from Megan Burgers, Fashion Business student, intern with ModeMusthaves.com
July 2016
"I was one of the first to start with their internship, so I didn't really have a clue what to expect or how it would go. I ended up loving it. If you would have told me that I would learn so much in such a time, I would have probably laughed at you. After almost 7 months, I have become a part of the team at ModeMusthaves, well more like friends. I remember when I applied for the internship I actually didn't want to work in the social media and marketing area, but after this internship, I can now say I don't know anything anymore! I have created such a passion for social media and marketing and it has only opened more for me! Being able to show what I can at a business like this, and being praised for your abilities is amazing. I found that I can do more then I think. It´s crazy how after such a short, but long time, you get used to the way of working and living. I can definitely say that the opportunity to work here, gave me an eye opener of what the world is really like. And no one can ever take that away for me!"

July 2016
Proud of our interns
We are particularly proud that our students don't just get the chance of an internship in the industry, but that our internships are with select fashion labels where it is every fashionistas dream to work.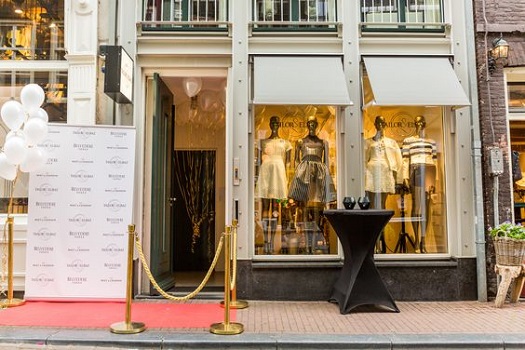 To illustrate this, Shelley Nathoenie, with Textiles Design (Hons) BA student at the Amsterdam Fashion Academy, has landed internship with fashion brand Tailor & Elbaz. Read on to find out what she has to say about her amazing internship.
"This internship has really changed my view of the Dutch fashion industry. I have grown so much in ways that you only can at smaller, fast-paced fashion companies. Although I am a fashion design student, I decided that I would want to do an internship in the fashion business and marketing to experience the other side. So far, I have become a part of this team and its social media strategies, as well as helping in every other department. I help to organize our own events, as well as events in which we sponsor or participate, from working with sponsors and creating graphics all the way to actually being a spokesperson or work a Dutch Celebrity event. Currently, we are going through a busy but oh so exciting period as we are finalizing the little details of our SS17 fashion show that is happening on the 11th of July. I could not have found a better internship for myself and I have really come to learn that you do not necessarily have to stick to your study choice!"

July 2016
Our graduates class 2016
We are so proud of our first ever graduates. They have certainly set a high standard for our current and future students to follow. You can still get a good impression of their cutting edge final collections and projects by visiting graduates class 2016. Manuel, Alicia, Laura, Fanni, Sophie, Britt, Suzanne and Thi-Lien, we wish you a great future in the fashion industry.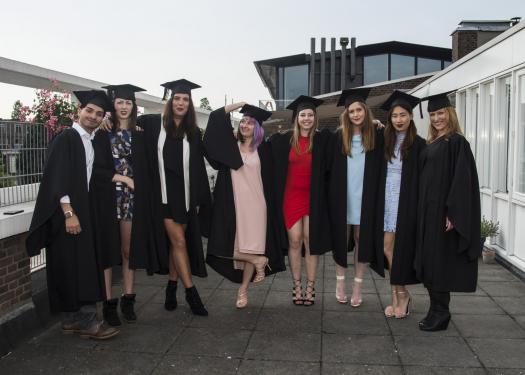 July 2016
The culmination of 3 years' hard work: our first class of graduating students!
To get straight to the heart of the matter, just 10 more weeks until we can celebrate our first graduation ceremony. A very special moment for us. A culmination of much hard work and dedication by all concerned. After a long haul getting everything in place, we were able to open our and welcome our first students in September 2013. Now, almost three years later, these students will soon be graduating. A milestone for both the students and the academy.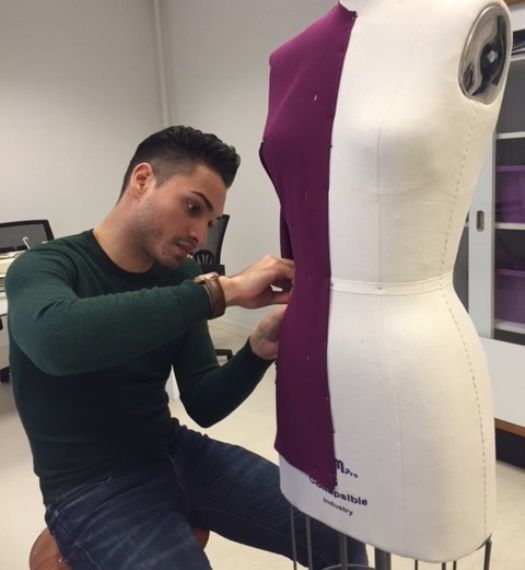 But before that happens there is still much work to be done. The graduates in Fashion Design with Textiles are currently working hard on their final collection. You can feel the pressure rising by the week. Not really necessary of course, since all students are well on track, but still the desire and commitment is high. The graduates in Fashion Business still have a hefty chunk of their Final Major Project to do. Despite the intense hard work you can feel the solidarity among the students. This is a group of students for us, our very first students, and of course we will celebrate this in June. In addition to the graduation ceremony and fashion show these students will also receive a fantastic farewell party. What could be better? We have lots to celebrate! More about this later.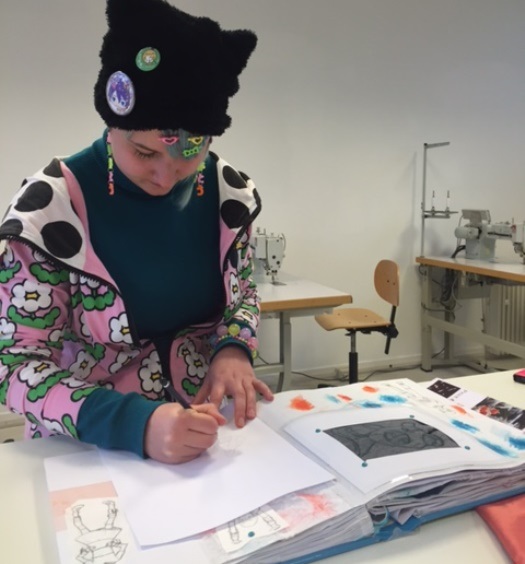 March 2016
Amazing achievement for Alena Trubaeva – Now Fashion Designer at Karl Lagerfeld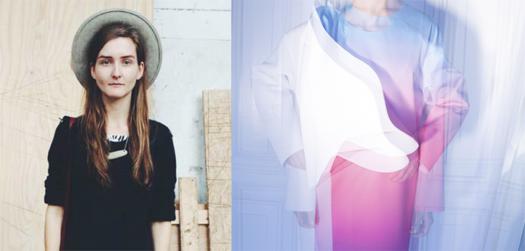 Alena Trubaeva, a fashion designer from Moscow, moved to Amsterdam two years ago with a goal of becoming a part of the local fashion environment and to build a network within the industry. After studying part time fashion design with the Amsterdam Fashion Academy she was able to create a newly focused women's wear collection and update her portfolio. This was indeed the start she had been looking for. Whilst studying she was able to become better acquainted with all the delicate nuances of European fashion business, and within her first internship she had the exciting opportunity to work on the Couture collection at Viktor&Rolf which was shown in Paris. Her second internship gave her the experience of becoming a part of the creative design team at a high-end brand Karl Lagerfeld. For her, it was both a new and familiar working process. After completing the internships she is now working as a womenswear designer at Karl Lagerfeld. We wish her all the success, well done!
Check our instagram,